Find out what the critics think at the Review Round-up on the website of TheatreInChicago.com
Sanctuary City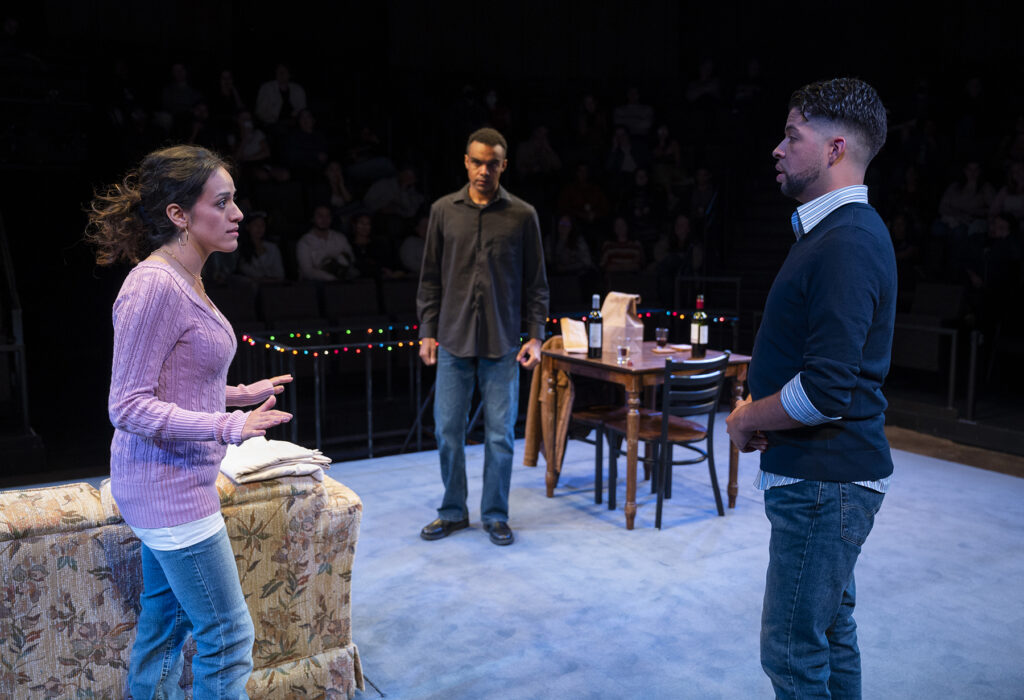 Steppenwolf Theatre Company through November 18
Recommended
Sanctuary City, which addresses some of the obstacles and challenges with which our own sanctuary city is currently struggling, is the first play from Steppenwolf Theatre Company's celebrated Young Adult series to go on the main stage. That's significant because Steppenwolf's YA series is known to offer some fine work over the years. Playwright Martyna Majok, a Pulitzer-Prize winner and a University of Chicago undergraduate, herself immigrated from Poland as a child and her script, along with the directorial guidance of Steph Paul, manage to convey the mix of hope, fear, struggle, support and adolescence.
What intrigued, and continues to intrigue me about this piece, is how it is really two plays or, to be precise, a story of two Newark teenagers brought to America as children who meet again as young adults under very different circumstances. The first two thirds of the play are starkly presented, often with the two, Grant Kennedy Lewis as "B" and Jocelyn Zamudio as "G," meeting under cover of night, spotlighted on the stage in staccato scenes with clipped, limited dialog reminiscent of the way teenagers talk to adults when they do not wish to be engaged in conversation. What ties these scenes together is the way in which these two young people offer sanctuary to each other as they talk about their desperate desires to pursue their American dreams even while they know the many obstacles that may prevent that. There is an aura of fear, uncertainty and the very real possibility of the loss of their parents to the unfairness of a country that is supposed to be a melting pot, a place that only theoretically opens its arms to immigrants. This part does run a bit long and might be more effective at a shorter length.
By the final third of the play, circumstances have changed radically and a third character — Henry played with ideal passion by Brandon Rivera — is now part of the drama. To reveal the plot in this section would be to spoil the play but suffice it to say that much of what audience members presumed from the first two-thirds of the play is turned around. This vast difference between the parts of the play seems to divide audiences. My theater-going friends and I have had a number of discussions with other theatergoers who like one part or the other. At first the divide appeared generational, with those closer to adolescence preferring the teenage first part while those more familiar with the often-complex and ever-changing politics of love and the world liking the last third of the play. In fact, people often liked one part and actively disliked the other part. Of course, there are outliers to any theory but what is clear is that this is a piece that divides audiences and provokes conversation rather than getting stuck in the "flavor-of-the-month" box. For that reason alone, you might want to check out Sanctuary City to see if it changes your thoughts on Chicago's status and state as a sanctuary city.
This Bitter Earth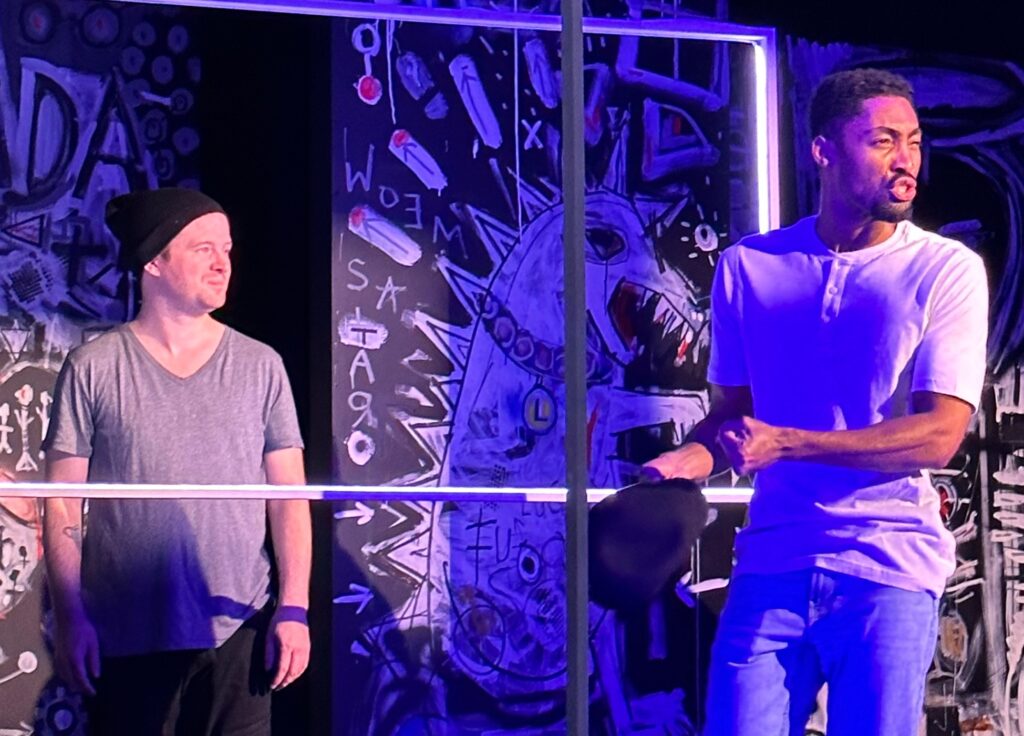 Fleetwood-Jourdain Theatre through November 12
Highly Recommended
A rich, layered and moving portrait of a biracial couple for whom love conquers opposing political views, class and race tensions and starkly different personalities is onstage at Fleetwood-Jourdain Theatre. It is a show not to be missed.
This Bitter Earth by Harrison David Rivers, a St. Paul, Minnesota-based playwright, impressively tackles activism, privilege, gayness, blackness with depth, sensitivity and humor in his richly layered love story.
This striking play is ideally directed by Fleetwood-Jourdain Artistic Director Tim Rhoze, and perfectly realized by a two-person cast. Matthew Lolar-Johnson plays Jesse, a thoughtful Black playwright who is very private about his work, with a fine array of introspective asides and romantic moments that create a lovely mix of intellect, sass and rage. One of his best humorous moments is his tirade about the saying, "There are no dumb questions." It culminates in Jesse's prediction that teachers who say this will live forever and should be dragged behind a car. Only in a play in which love between a couple has reached an authentic comfort level could such words be uttered. Tiemen Godwaldt is Neil, Jesse's white beloved. He is also a Black Lives Matter activist whose roots are in East Coast privileged wealth.
These two flirt, cuddle and grapple over politics as they come to terms with who they are and test the limits of their love. Neil thinks Jesse is too apathetic but a revelatory moment comes with Jesse's recounting of his dream that features a parade of Black literary and other luminaries, a list of Black artistic excellence and genius that dazzles. It is a splendid moment that shows a different, but equally important, face of activism. "We need to speak out," says Neil later, noting that he is not limiting activism to those who are injured. "We need the allies."
This gripping and amusing back-and-forth, peppered with moments of great warmth and affection, plays out on a spectacularly artistic yet political set. Sarah Kaiser-Amaral's large black mural bursting with colorful figures, items and sayings, and inspired by the Artist Jean-Michel Basquiat, surrounds the actors as they move between empty picture frames that allow them to be together or separate as the moment dictates.
This Bitter Earth is a realistic love story, one that lets us see how much homophobia, racism, hatred, ignorance, right-wing extremism, and all the other isms that intrude on the lives we live can distort reality and ruin lives, not to mention the love that we are capable of having for each other. Fortunately, This Bitter Earth is ultimately a love story. Even with all its political debates, the message of this play that love can conquer all is supreme. It is a message that we must not lose sight of, one that should speak to all of us and unite us.
Seize the opportunity to witness this optimism and be part of this love before This Bitter Earth closes. You will come away moved and improved, perhaps even hopeful as you smile about what you have witnessed.
The Nacirema Society Requests the Honor of Your Presence at a Celebration of Their First One Hundred Years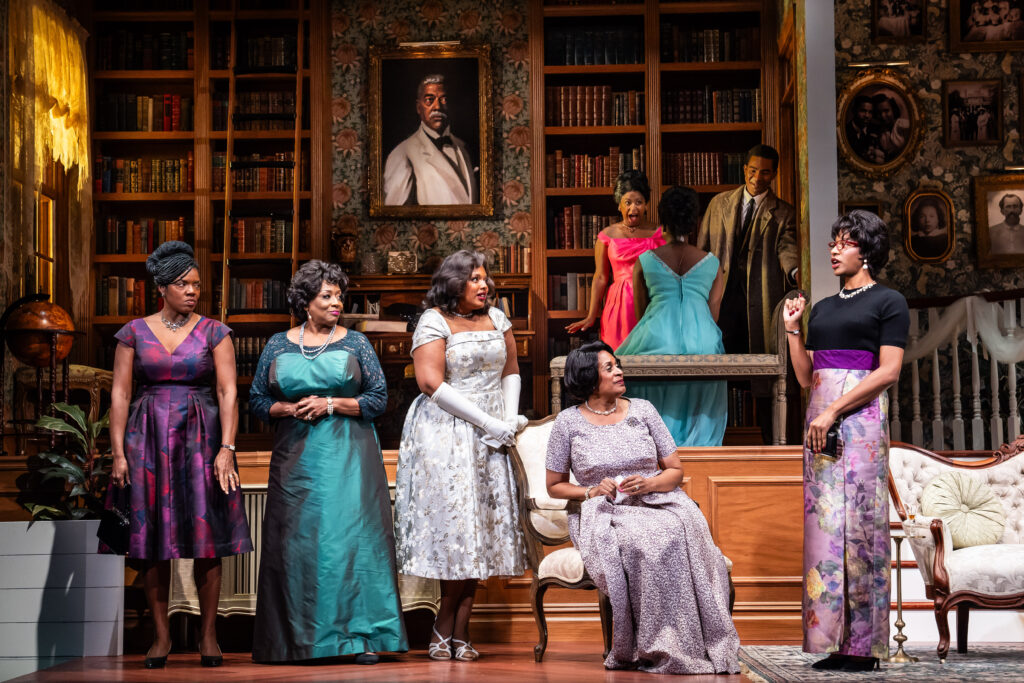 Goodman Theatre through October 22
Highly recommended
It's hard to imagine a more deliciously wicked play that will have you laughing even as it tackles issues of gender, race and class with the snappiness, sensitivity and candor one expects from Playwright Pearl Cleage so accept the invitation from the members of The Nacirema Society and enjoy the antics of some of the most talented Black actors now working in Chicago.
The women are a particular triumph in Director Lili-Anne Brown's cast, and she encourages them to not hold back. E. Faye Butler is the divine doyenne Grace Dubose Dunbar, an elegant black matron with uncontrollable control-freak tendencies, and a drive to always be top star in any firmament of Black achievement. She is clearly in charge of The Nacirema Society, a social club for wealthy African American women, in every possible way. Ora Jones shows, once again, her incredible range at a incredible variety of characters over her decades on Chicago stages. Here she is Catherine Adams Green, the somewhat ditzy best friend of Mrs. Dunbar, who is also invested in maintaining Nacirema standards in 1964 Montgonery, Alabama. The two are plotting to have Mrs. Green's son marry Mrs. Dunbar's granddaughter. Demetra Dee,excellent in younger roles at major theaters, is Gracia Dunbar, a spunky college-bound granddaughter with a mind of her own, and a desire to be a writer. She has no intention of marrying her childhood friend, Bobby Green, played charmingly by Eric Gerard, who did a brilliant comic turn in Court Theatre's Arsenic and Old Lace, nor he her since he is in love with another in this romantic comedy. His lovebug is Lillie Campbell Jackson (played with passion by understudy Aja Singletary in the performance I saw), who turns out to have a surprising connection to the Dunbars that I will not spoil for those of you who want the full funny experience.
Three other women are essential to this drama. Tyla Abercrumbie, long a star on the stages of Chicago's best theaters, and now equally respected as a playwright – last season her Relentless, earned the Jeff for best new play after its sold-out TimeLine run was remounted by the Goodman – is Alpha Campbell Jackson, a woman not of Montgomery's upper echelon who challenges the divine doyenne with a demand. Her necessarily strong and sharp working-class presence is matched by the mostly silent counterpart of the Dunbar's maid, Jessie Roberts, brilliantly played by Shariba W. Rivers, who says more with her face and body than many denizens of dramatic enterprises. It's no small irony that Rivers portrayed an actress playing a maid in TimeLine's Trouble in Mind last season. Into this volatile mix comes Janet Logan, a New York Times reporter who is idolized by the Dunbar granddaughter and is bent on correcting a previous story on The Nacirema Society – or perhaps getting the real story. The role is usually played by Jaye Ladymore, the Relentless lead, but was played with journalistic snap by understudy Diana Coates the evening I attended.
It's been a joy to watch these actors on stages around Chicago, but it is an extreme and delicious pleasure to see them gathered for this deeper-than-you-thought piece that challenges class and gender stereotypes at the beginning of the Civil Rights Movement. Their interactions take place on Arnel Sancianco's set, which achieves Goodman's usual stratospheric standards from its double level living room, front hall and library of the Dunbars and the much less elegant kitchen of the Dunbar's late maid that rises from the stage as a reminder of class difference. Samantha Jones' costumes are period-perfect and great fun to watch.
This is a trip back in time that is worth every inflated penny of the ticket. Aside from a rollicking evening of amusement delivered by some of Chicago's finest actors, you will find yourself marveling at how much has changed – and how much hasn't – since 1964. Don't hesitate to accept the invitation to celebrate The Nacirema Society's first one hundred years!
A View from the Bridge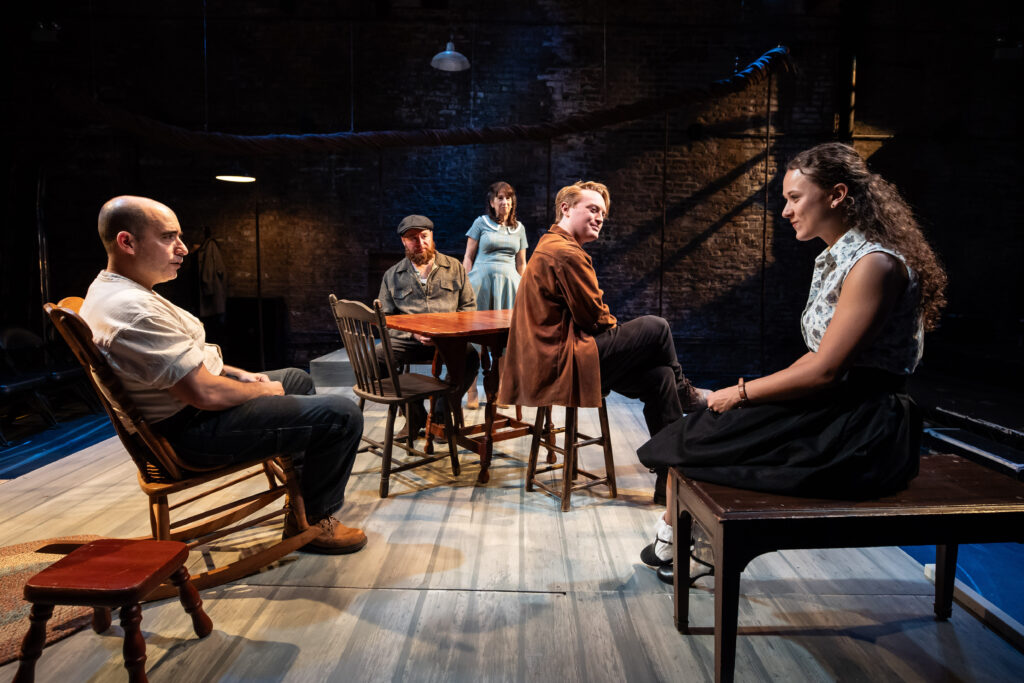 Shattered Globe Theatre through October 22
Highly Recommended
At a time when we are struggling to understand how we really feel about immigration, Shattered Globe offers us an historic perspective with its revival of Arthur Miller's classic A View from the Bridge.
Written in the 1950s, at a time when Southern Italians were fleeing poverty only to encounter prejudice in America, Miller's play is often remounted on stage and in film, and always seems to have something new to say.
Louis Contey directed the company's last production of A View from the Bridge in 1993, when this country was experiencing an increase in Central and South American, as well as Asian immigrants, returns with his searing vision of this story for our time. What we get is Miller's layered examination of assimilation in Brooklyn's Red Hook working-class community of new and recent Italian immigrants. At the top of the ladder of assimilation is Alfieri, a lawyer who, while professional and educated, is an honest observer, our narrator and bridge with a clear-eyed view of the Italians of Red Hook. John Judd is all grace and insight in this role, so cooly brilliant that I realized how much I've missed his always sure and moving presence on Chicago stages, including his splendid turn as the tortured father in Court Theatre's fine 2018 production of Miller's All My Sons.
The next rung of the assimilation ladder is a family of three, now adjusted to working-class life on the docks. Eddie, played with the right mix of confidence and rage by Scott Aiello, works as a longshoreman. Eileen Niccolai is his wife Beatrice, in a reprisal of her role from Shattered Globe's last production that has the right flash and deftness of someone who knows this housewife's many obstacles and desires. Their family is completed by a beautiful niece, who came to live with them when Beatrice's sister died. Isabelle Muthiah is a joy to watch as she navigates her little-girl love for her uncle, her desire to please him and her aunt and her need to grow into a woman.
At the bottom of the ladder, are Bea's cousins, brothers who come illegally in the middle of the night, escaping the poverty and joblessness of their scenic Italian town. Marco, who is older, is played perfectly by Mike Cherry as a man of quiet strength and determination who wants to work a couple years to make enough to keep his children and wife alive. Rodolpho, the younger brother, is a blonde, the object of scorn and desire among the dark-haired southerners. Harrison Weger nicely captures the younger man's dreams of becoming a singer and an American.
A View from the Bridge is not only about the immigrant experience. It is about lust in the epic Greek tragedy tradition. Eddie's uncle's improper affection for his niece is hard to watch. His rage at the love blossoming between his beloved niece and the blonde newcomer is palpable, bursting off the small set of their home as he attempts to break up the relationship by any means necessary, including accusing Rodolpho of being a homosexual. True to Greek tradition, Cassandra, the truthteller in the form of Beatrice, reveals her husband's obsession for what it is, and the heartbreaking story builds to an ugly confrontation involving honor.
While many recent plays about immigration and immigrants tell us their stories or try to get at what we feel about immigration at a given moment, A View from the Bridge examines the inside of the immigration experience, offering a compelling interior view of one family and its struggles as it bridges the move from immigrant to American. It is a story that speaks across generations, countries and centuries. It is a view you will not want to miss.
Blues for an Alabama Sky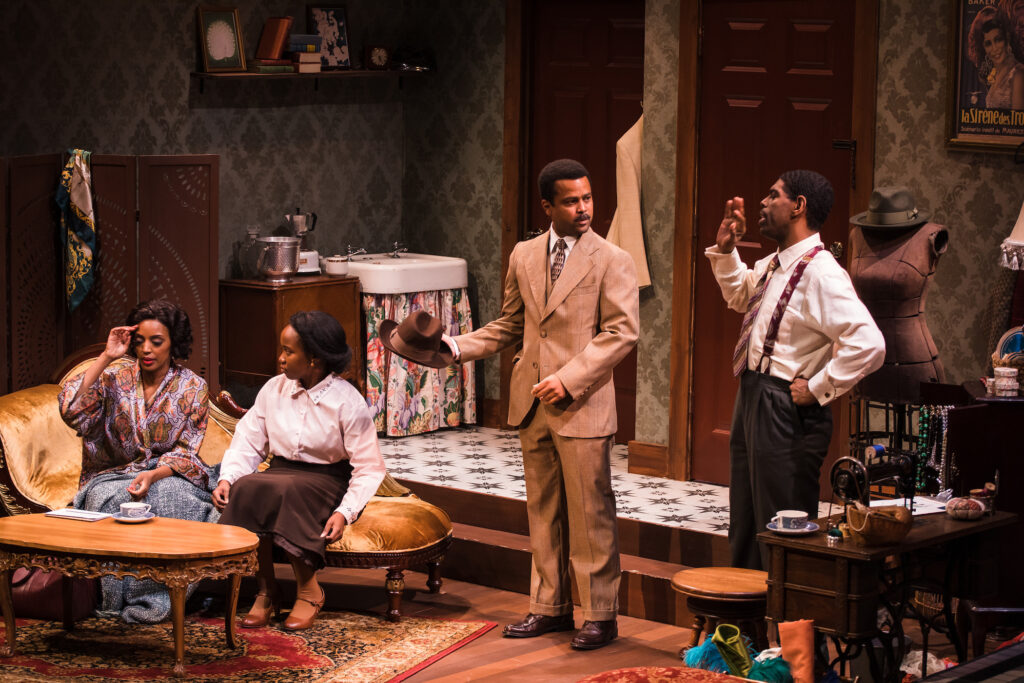 Remy Bumppo through October 15
Highly Recommended
We tend to focus on the artistic talents and intellectual power that characterized the Harlem Renaissance, and while I am of the mind that one can never hear enough about Black Excellence of any era, it is revealing/refreshing/enlightening to encounter the far more varied cast of characters who inhabit Blues for an Alabama Sky. This play is first in a city-wide celebration of Pearl Cleage, a prolific Atlanta-based writer who has written more than 30 plays, as well as novels, poems and essays. However, her plays have not often graced Chicago stages. Given Cleage's remarkable artistic range, and her talent for exploring Black lives across centuries and class, this is astonishing.
Set in Depression-era Harlem, Blues for an Alabama Sky opens with jazz singer Angel, played by Tiffany Renee Johnson with tragic drama befitting a would-be diva, getting fired from the famous Cotton Club. As has been her pattern and her luck, she will be supported in every way by her friends. Primary among them is Guy, an openly gay clothing designer who dreams of life in Paris designing for Josephine Baker. Breon Arzell plays the larger-than-life dreamer and delivers many of the funniest lines in the fast-moving snappy dialog. Their warm duo is often joined by Delia, a thoughtful turn full of grace in the gentle but committed hands of Jazzlyn Luckett Aderele, who works with Birth Control Activist Margaret Sanger to bring family planning centers to Harlem, and Sam, a compelling portrayal by Edgar Sanchez of a respected doctor despite his penchant for hardcore partying who undergoes some changes.
The presence of the powerful and famous runs throughout Blues for an Alabama Sky from Baker to Sanger to Adam Clayton Powell whose Abyssinian Baptist Church was a leading force in Harlem history. A stark contrast to these diverse four arrives in the form of Leland, a conservative rural Alabaman new to Harlem who is instantly smitten with Angel. With his low-key steadfast insistence on his ways, Ajax Dontavius captures the conservatism of a country man encountering the big city, particularly Harlem, that many in the early waves of The Great Migration must have experienced.
Like much of Cleage's work, issues of racism and sexism, and the double burden Black women bear, are central to Blues for an Alabama Sky. Johnson's Angel and Aderele's Delia offer particularly moving words and insights into two very different ways of being a woman. The three men also offer their interpretations of what women should be from Guy's adoration of the glamorous Josephine Baker, who escaped America's racism and found fame in France, to Sam's support of women struggling to avoid unwanted pregnancies to Leland's push for a traditional obedient wife. What emerges, and takes your heart, among all the snappy lines and laughs, is the relationship between Delia and Sam, both of whom are committed to change and serving their communities.
A Taste of Soul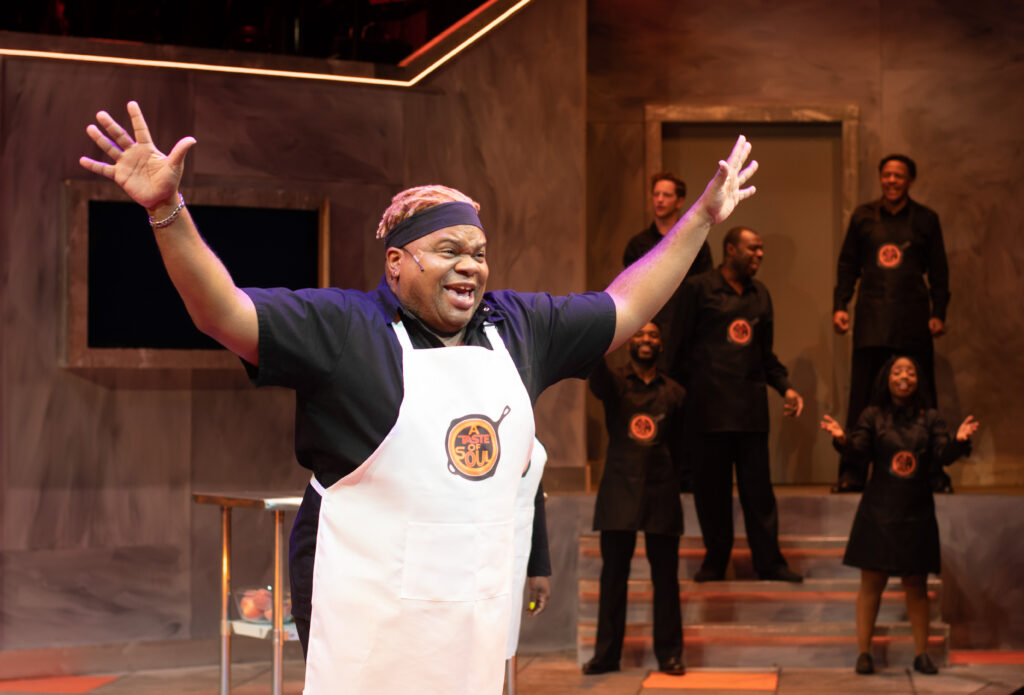 Black Ensemble Theater through October 29
Highly Recommended
Spend a joyous clapping-and-toe-tapping couple hours being served soulful hits in Black Ensemble Theater's latest from Playwright and Director Daryl D. Brooks. What makes this show so much fun is its premise that the audience is at a live show taping, enjoying a multi-course meal of sweet and savory soul hits prepared by a charming pair of singing chefs who share their mouth-watering recipes and season the show with the usual amazing Black Ensemble talent coming from nine sous chefs with songs to sing and stories to tell.
Our Head Chef hosts, the wickedly skeptical Thee Ricky Harris and the good-natured Quiana McNary, spice things up with their introductions and, in the case of Harris, knowing and irreverent facial expressions and comments. One tasty treat is that many of the songs sung by the actors portraying such superstars as Aretha Franklin, Sam Cooke, Marvin Gaye and Al Green aren't always their best-know hits, which adds icing on their famous cakes. Standout performances come from McNary as Aretha Franklin with the right mix of elegance and passion, Harris in an appropriately over-the-top version of Little Richard's "Tutti Frutti," Britt Edwards, who captures the sexy intensity of Tina Turner and Makenzy Jenkins who channels the sultry Al Green in his classic "Let's Stay Together." A host of other singers are celebrated here too offering tasty tidbits in this extended musical meal that includes blues, jazz and some soulful white artists.
This show makes excellent use of technology to display soul stars' photos and recipes. The set complements this repast with its pair of chefs' tables in front of a huge oven that sometimes serves as a smokey stage door for the singers. Come hungry to this feast that will leave you full of fine soul.
Cat's Cradle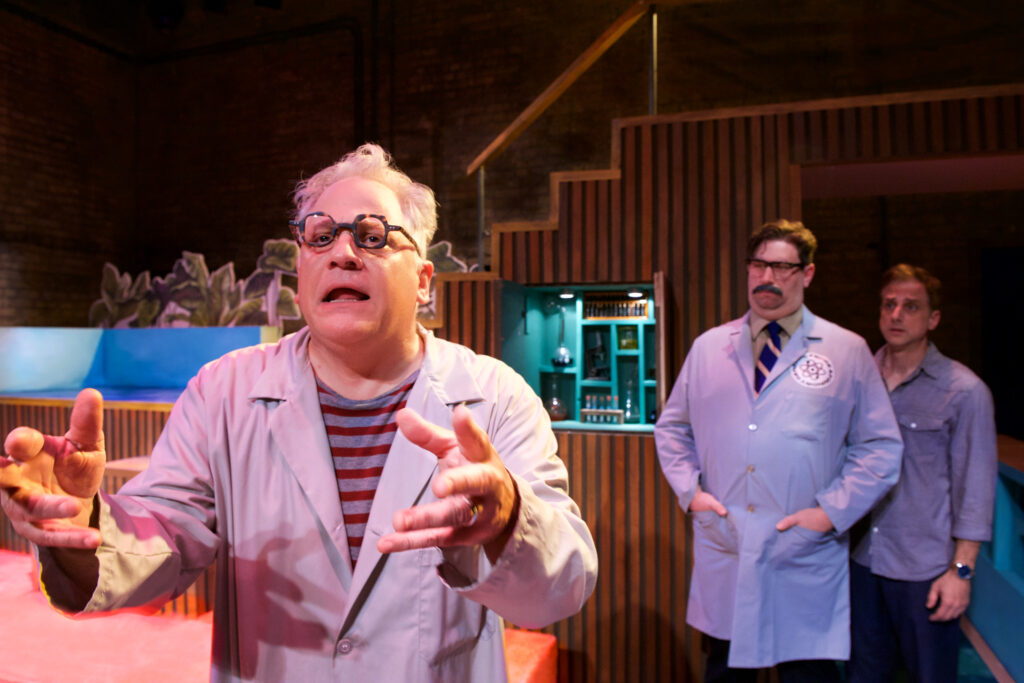 Lifeline Theatre through October 22
Highly Recommended
Lifeline Theatre's wacky, laugh-out-loud adaptation of Kurt Vonnegut's iconic novel captures its essence, navigating the supreme horrors and ironies of World War II as well as the fears and idiocies of the post-war era, a time when so many of us were unable to disconnect from the staggering reality of nuclear warfare. It's a sober subject, an angst that remains for families that were forever altered by that war and its aftermath. And yet John Hildreth's spot-on adaptation deftly honors Vonnegut's hallmark mix of humor and horror, parody and tragedy, sarcasm and profound human connections. It's almost as if he and the large cast that bursts with talent under the able direction of Heather Currie have grabbed a line from Cat's Cradle – "Eat, drink, and be merry, for tomorrow we die." – as their leitmotif and let it animate each moment of this play.
Everyone on stage struts their dramatic stuff, reminding us of what this theater company can do when it is at its best. That includes employing artists who can adapt literature, as well as direct and act in those adaptations. Lifeline Artistic Ensemble members Currie, Patrick Blashill and Anthony Kayer, playing two of the most amusing scientists ever to grace a stage, are joined by Lifeline regulars Shelby Lynn Bias, Shea Lee and Mandy Walsh. Newcomers Tony Bozzuto, the journalist/narrator who easily goes from dopey to intense, Vic Kuligoski, Jocelyn Maher and Johnard Washington, as the charismatic cult leader, steal many scenes. The cast uniformly shimmers with energy and wit, easily morphing between multiple roles. The actors' zeal is enhanced by pitch-perfect costumes that embrace the spirit of this show and of Vonnegut's sardonic humor. It's almost as if Aly Amidei employed "whimsy" and humor as mantras in her sartorial selection process.
Don't miss this delightful but deep kickoff of Lifeline's & Chicago's Fall season. You don't have to be a Vonnegut fan to enjoy this one but it may inspire you to read Cat's Cradle again. I promise you'll laugh and cry at the stage and page versions of his classic story.
Birthday Candles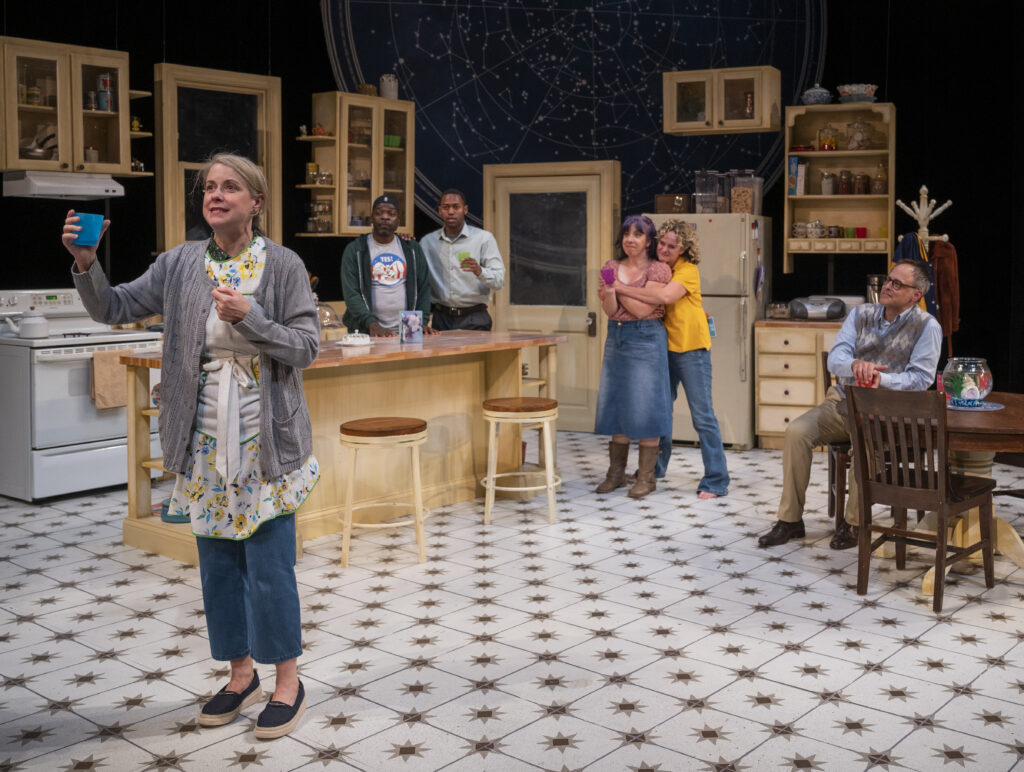 Northlight Theatre through October 8
Highly Recommended
Birthday Candles is the sort of art that wraps its arms around you and finds a home in your heart, bringing moments of joy and sorrow with the memories of its beauty and profundity. Noah Haidle's play, now in a luminescent production at Northlight Theatre, is both epic and intimate. Its moments of family magic range from profoundly wise to laugh-out-loud funny as it moves from moments of revealing beauty and quirky individuality to the most ordinary ones of our shared lives. There is a stunning beauty in these interactions. The result is an intensely perceptive and passionate piece about humans, and how we cope with love, life and death.
No small subjects these but Director Jessica Thebus, a considerable talent, gives an added glow by sharing her connection to Birthday Candles because of the recent death of her mother, Mary Ann Thebus, a radiant presence on Chicago stages for decades. No doubt their closeness and shared life in the theater increases the warmth and grace of this Chicago premiere, and brings out the best in her stellar acting corps.
Color-blind casting deepens the universality of this story. Four of the six actors morph between different roles from the same family, playing successive generations, which adds the marvelous quality of families looking alike from parents to children. The show belongs to Kate Fry, a splendid Chicago actor who plays Earnestine Ashworth. We first meet her when she is 17 and watching her mother make her special birthday cake. In the full heat of passionate adolescence, Earnestine is declaring her desire to be different. That cake anchors the play, and we travel with her through the highlights and heartbreaking moments of the next 84 years marked by her annual preparation of her mother's cake. Fry animates her journey through marriages, motherhood, love and grief with her usual perceptive and deft genius. She plays opposite her true-life husband, the always impressive Timothy Edward Kane, who carries a torch for Earnestine from their childhood.
The other four actors, Cyd Blakewell, Samuel B. Jackson, Chiké Johnson and Corrbette Pasko, more than hold their own. Jackson is especially engaging as Earnestine's son, growing into manhood and standing by his plainspoken and neurotic wife, portrayed with charming bluntness by Pasko. Sotirios Livaditis' set with its starry floor in the bright quaint kitchen surrounded by the stars of our velvet blue solar system complements the script and showcases the actors, as does JR Lederle's lighting design.
Birthday Candles is a holistic experience, an event that is not to be missed if you want to experience, understand and delight in the large and small moments of life and love. I've been devoted to Chicago since 1964, and seen some exquisite shows over the years, but this is one that still stands alone. It continues to hold me in its tight embrace, and I hope it never lets me go. Do yourself a favor and drop everything you are doing; find someone you love and go see Birthday Candles.

Personality: The Lloyd Price Musical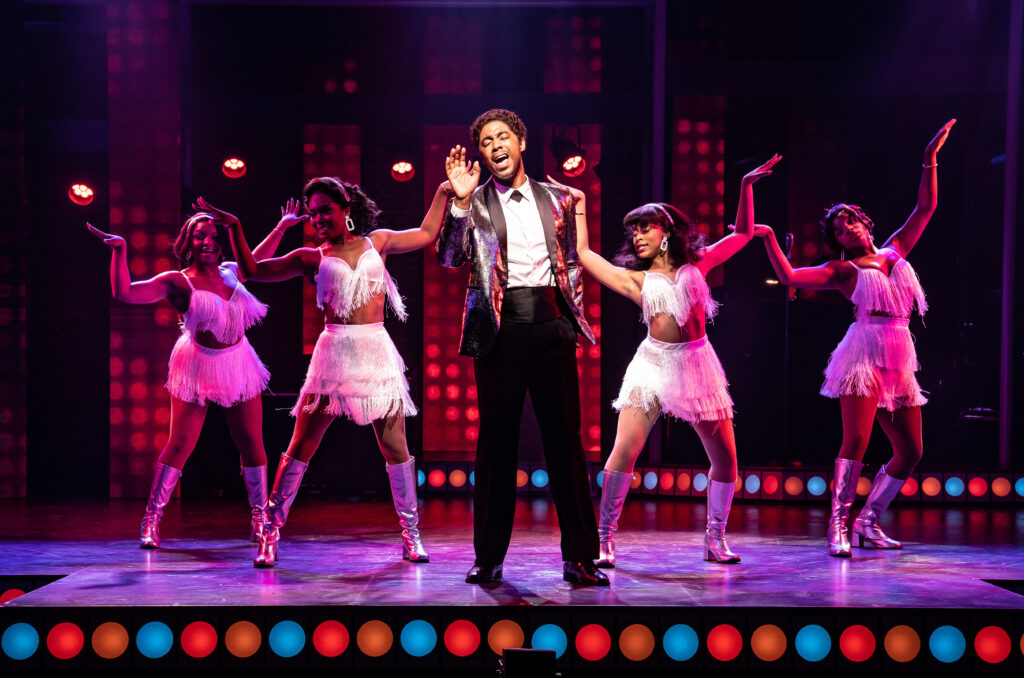 Studebaker Theater through July 30
Highly Recommended
Delight in many joyful noises as you meet a man you will want to know more about – Lloyd Price. You may know his early hit, the 1952 "Lawdy Miss Clawdy" that made him the first teenager to sell more than a million records, earning him a Gold Record. You might recall his later hits, "Stagger Lee," "I'm Gonna Get Married" and "Personality." But as you dance along to this musical's exuberant renditions of those songs, you will meet a man who is so much more than you thought.
A Louisiana native, Price had a life full of successes and firsts. "Lawdy Miss Clawdy" made him a crossover artist who appealed to Blacks and whites. The Rock and Roll Hall of Famer was the first Black man to open a New York nightclub just below Harlem. Price was the first recording artist of any race to create his own record label. His irrepressible entrepreneurial spirit led to his manage singers, promote Muhammad Ali's boxing matches, dip into real estate and even venture into the food business. "Mr. Personality" was an early champion of Little Richard, and claimed to put Sam Cooke on the map by suggesting he give up the gospel sound and replace Jesus with "Darling" in "You Send Me." That moment alone is worth the price of admission. Predictably Price's accomplishments happened despite the relentless racism he faced throughout his career.
The beauty of Personality: The Lloyd Price Musical is that it tells these stories with passion, excellent acting, snappy dancing and, of course, fabulous singing. Saint Aubyn gives us an engaging Lloyd Price full of affable charm but far from blind to the limitations his race imposes. Darian Peer is a sweet and naïve youthful Price, the country boy with a big and beautiful voice. Stanley Wayne Mathis is solid as Price's long-time partner, loyal friend and protector who has a bit too much going on on the side but comes across as valorous nonetheless. Miles Boone delivers the perfect-over-the-top Little Richard with his rendition of "Tutti Frutii" that surely has Little Richard rockin n' rollin in his grave.
Even as it hits all the right notes with its professional acting, singing, choreography, sets and costumes, at its heart this show is just plain fun. What better way to spend a summer evening? You still have 11 more chances to see Personality: The Lloyd Price Musical before it closes July 30 Make sure you spend an evening with this talented crew.
Blue Heaven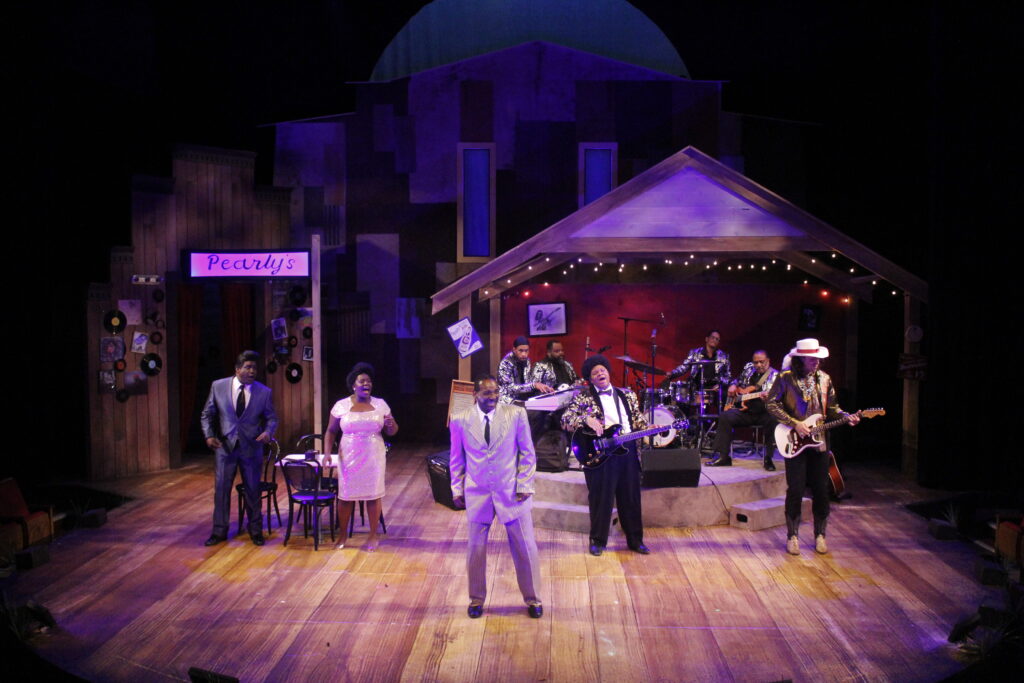 Black Ensemble Theater through November 27
Highly Recommended
Give thanks for the blues by taking in the new show at Black Ensemble Theater before it closes on Sunday. In a charming conceit, BET Producing Managing Director Daryl D. Brooks, who also directs this play, takes his audience past the pearly gates for performances by some of the great blues artists. This means audience members are treated to the usual high level of Black ensemble singing and music but Brooks' storyline is stronger than some BET past plays, and the music is heavenly.
The premise is that each singer/musician wanders into Pearly's for some songs and stories and to welcome the newest member of the celestial blues choir. First comes Chester Arthur Burnett, better known as Howlin' Wolf, played with calm elegance by Lyle Miller, a BET regular who's appeared in more than 50 productions. He's joined by Willie Mae "Big Mama" Thornton, portrayed with no-nonsense spunk by Miciah Lathan. Next to the party is McKinley Morganfield, AKA Muddy Waters, played by Dwight Neal, a 20-year BET veteran who starred as Muddy Waters in the theater's Howling at the Moon. The three swap stories and songs before Stevie Ray Vaughan shows up, convincingly portrayed by Billy Rude. As the blues stars share memories and war stories, the theme of the play begins to emerge. Each has had to pass through a ritual of forgiving themselves for one of their earthly transgressions. By the time Riley B. King AKA B.B. King shows up, a nice mix of cheer and confusion from Aaron Reese Boseman, they are ready to guide him.
Every member of this cast is appropriately stellar in both singing and playing, and the four-piece band led by Adam Sherrod, casts much celestial light as it takes them through 24 blues classics, including "I ain't got nobody," "Hound Dog," "Ball and Chain," "Hoochie Coochie Man" and "The Thrill Is Gone." Between the songs are stories of how whites took this music and made money on it, and the many challenges Black performers and artists faced. There are homages to blues singers of the past, like Bessie Smith and Ma Rainey and the music scene – and all of this in a mere 90 minutes.
You still have a few days to catch Blue Heaven. What a lovely way to celebrate this classic American African-American music that started in the South and is now beloved around the world!
Measure for Measure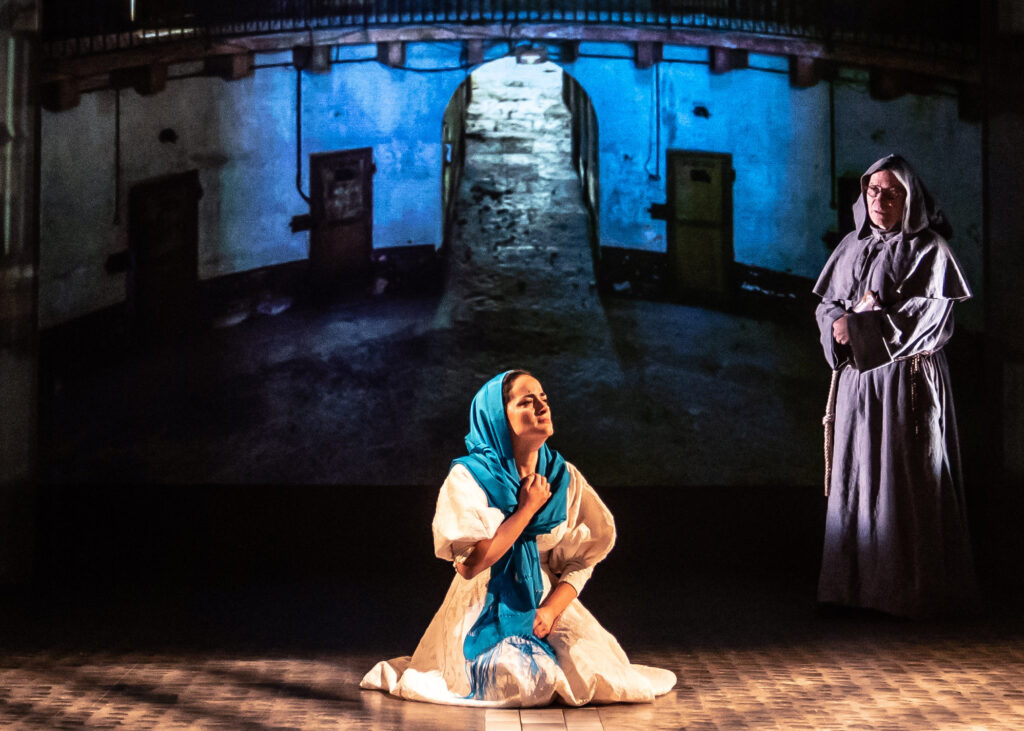 Chicago Shakespeare Theater through November 27
Highly Recommended
Measure for Measure, now in a condensed but arresting and revealing production at Chicago Shakespeare Theater, is proof for any doubters of the genius of the Bard and the reason his plays remain relevant. Director Henry Godinez sets his version in 1950s Cuba as Fidel Castro is coming to power. The move from Vienna works well, and Godinez' vision and direction allow us to see just how prescient Shakespeare was about sexism, sexual abuse, power imbalances in gender relationships, the danger of dogma. One can't help but marvel at the man who had figured out the Me Too movement centuries before that name was coined, and has long offered scathing portraits of the abuse of power that fit right into the recent global move to the far right.
Godinez' Measure for Measure starts in a Havana nightclub with much salaciousness. Under the rule of the laid-back Duke Vincentio, corruption is eclipsing the rule of law. He plans a trip, appointing the upright Angelo as his deputy. The Duke returns, disguised as a monk, to see how his minister's reforms are going. Angelo turns out to be no angel, and has decided that fornication will lead to death. A young novitiate, the sister of the first man condemned to death, pleads for her brother's life but she is more effective in awakening Angelo's lust and he demands her virginity in exchange for her brother's clemency. A complicated trick takes place that resolves the play and brings justice to all.
The star here is Kevin Gudahl, a sublime CST veteran, who nuanced interpretation of the duke as both good but ultimately clueless ends with his exposure as a flawed, possibly evil man. Here Cruz Gonzalez-Cadel plays Novice Isabel with a mix of naivete and passion but isn't persuasive as the woman after whom Angelo lusts. Adam Poss as Angelo offers a chilling portrait of the dangers of dogma, lacing his political rigidity with an all-too-sexual one – pun intended. Comic relief comes from Elizabeth Ledo, another veteran of the works of the Bard, as a slickster connected to the nightclub, and Joe Foust as Constable Elbow, who is a little too attached to that nightlife and his libations.
The vintage footage that plays throughout the play is an effective backdrop that captures the party-time playground Havana was to many in the 1950s while reflecting Godinez' sorrow about what happened to his beloved Cuba. This transition works just as well for any country undergoing a radical move to the left or the right.
Measure for Measure has long been called one of Shakespeare's "problem plays," along with All's Well That Ends Well, plays that move from comic moments to psychological tragedy, and that offer credible multiple perspectives without passing judgment on any side. This analysis, it seems to me, is problematic, since many of Shakespeare's "great" plays – Othello and The Merchant of Venice among them – offer multiple perspectives that more recent directors have used to help us to see racism, antisemitism, power and lust.
You have a few days left to see how Godinez and his talented cast turn this "problem play" into a compelling parable not just about Cuba but about our lives right now. Don't let the opportunity pass.
Swing State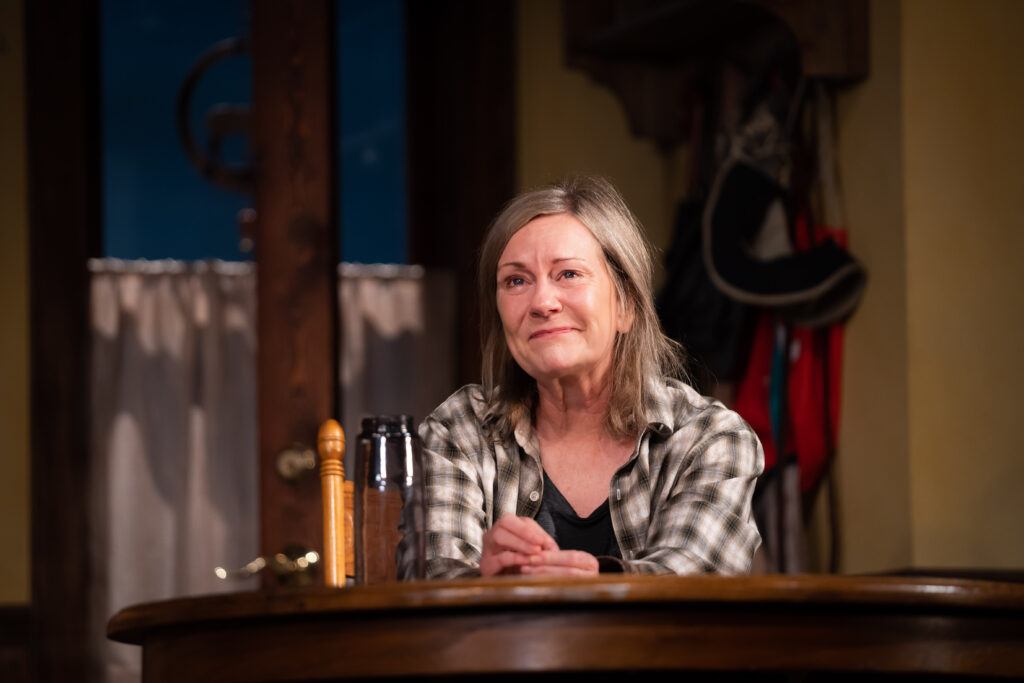 Goodman Theatre through November 13
Highly Recommended
In this election season, one might expect Swing State to be about politics, and indeed it is about the divisiveness of our current political climate, but it is also a deeply personal play that captures the emotional swings we endure as we live out our political and more human passions and beliefs.
From the moment she walks on the state & breaks eggs with grim, determined rage, Mary Beth Fisher is a marvel but then this goddess of the stage has yet to make a false dramatic move in the decades I've enjoyed her work, even when she is trapped in an atrocious play.
Swing State is not a bad play; in fact, it is a terrific one, the latest from Rebecca Gillman, a playwright with a penchant for tackling the pressing political and social issues of the day through intimate and perceptive stories told by admirable moral people often thwarted by their circumstances and the events and institutions that rule them. Her newest play offers Chicago a theatrical trifecta – Gillman's 10th Goodman mainstage production in her 25-year collaboration with the theater, directed by outgoing Goodman Artistic Director Robert Falls and starring Fisher, long a Goodman favorite.
Fisher plays Peg, a recent widow who is caught in unrelenting grief over the death of her beloved husband as she continues their work trying to reverse climate change in their small-town Wisconsin corner of the world. As a pandemic widow myself, everything about Gillman's character and Fisher's perfect portrayal rang true from the pendulum swings — perhaps we should call it "swing state" — between the ceaseless and suffocating grip of grief and rage about the death of the love of your life and the desire to go on. I found myself sighing in recognition and tearing up. But one need not be widowed to relate to Fisher's Peg because her widowhood and its implicit loss are a metaphor for the larger losses that climate change, capitalism, corporatization and the many other horrors of modern American life have wrought. All this could be preachy and maudlin but Gillman's script, Falls' fine direction and the splendid cast keep it realistic, wickedly funny and moving.
Kirsten Fitzgerald, another star of Chicago stages, is fierce and foolish as Sheriff Kris, Peg's bureaucratic nemesis. Bubba Weiler is spot on as the troubled young man Peg and her husband took in, a person who knows Peg as well as she knows herself. Anne E. Thompson is lovely as the sweet Dani, trying to make a new life as an assistant sheriff to her Aunt Kris.
The set is perfect with its everyman-and-woman Middle Class kitchen and iconic den. Both could be in any house in rural Wisconsin or any Midwestern or suburban home of a certain class.
Swing State is a play that stays with you, not only for the clean but elegant writing and the superlative acting but for what it tells us about ourselves. In its embrace, we learn more about grief and loss, both personal and global, about the need to fight for change even in the face of what appear to be insurmountable obstacles, about the importance of who we love and what we value. Make sure you find the time to savor this moving play. You will come away a better person with a more intimate sense of how the personal and political connect.

Alma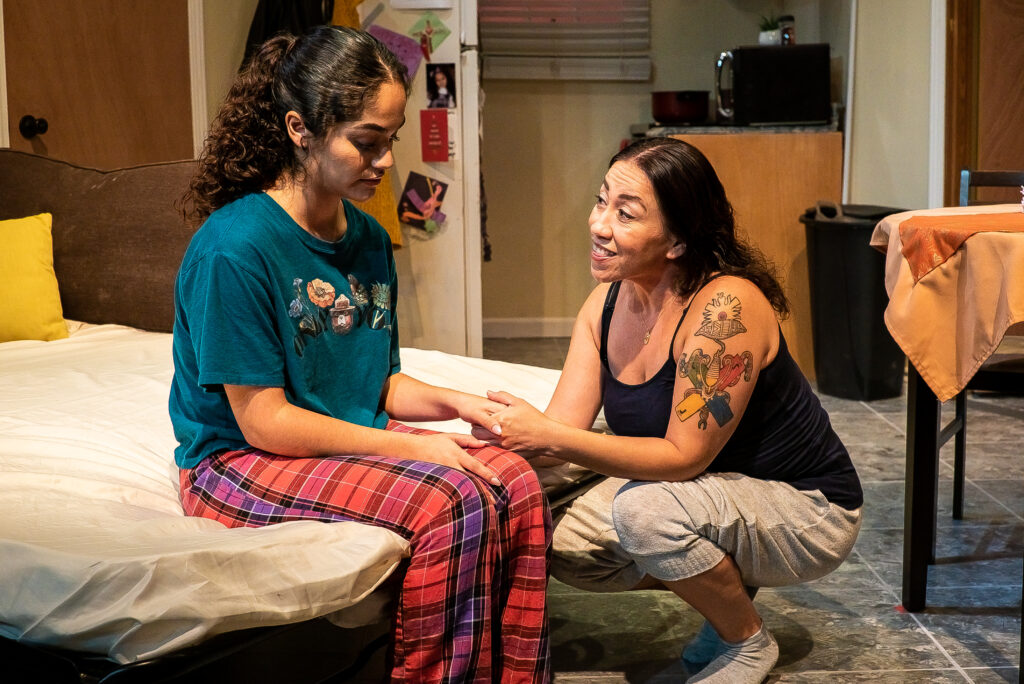 American Blues Theater at Rivendell Theater Ensemble through October 22
Highly Recommended
Alma, a strong new play, is a splendid example of how individual stories illuminate universal themes. In 70 minutes, this compact two-person piece manages to say much about mother-daughter relationships, the dreams parents have for their children, the immigrant experience and how Americans treat those who come to our country. Benjamin Benne's play is part of Destinos, the Chicago Latino Theater Alliance's 5th Chicago International Latino Theater Festival, and it fits perfectly in the festival yet crosses many borders thanks to fine writing, sure directing by Ana Velazquez and top-notch acting.
Alma, played by Jazmín Corona with a passion that makes everyday interactions sing and humanizes overwhelming obstacles, crossed the border illegally 17 years ago hoping to partake of the American Dream. She lives in a simple one-bedroom apartment in La Puente, California, with her U.S.-born daughter, Angel. A stunning Bryanna Ciera Colón as Angel matches the dynamism of her mother as they tangle over whether she will take the SAT. The play focuses on their love, their dreams and their conflicts, displaying the tensions between immigrants and their first-generation children as both struggle to fit into the cultures and countries they know. What caring parent doesn't want the best for their progeny? For Alma, Angel's perfect SAT score is the culmination of the American Dream and their debate about its value is a window offering a clear perspective on how hard it is to live up to a parents' expectations, especially when they are heightened the immigration experience and all the wishes and hopes that entails.
Looming above all this is the women's fear that Alma will be deported or worse. Not that much has changed in the last seven years but the play takes place as the 45th president is about to take office, an event that looms over every interaction. That reality offers insight into how our racism and anti-immigrant government policies can undermine a mother daughter relationship. Despite such horror, and the normal mother-daughter conflicts, the relationship these women have is full of deep love and respect. Amid these ugly and terrifying political realities, this is a story of hope, in no small part because of the strength and perseverance of these two admirable women. Let this play wrap its arms around you. It will make you laugh even as it brings you joy and a better understanding of the challenges immigrants face.
Stew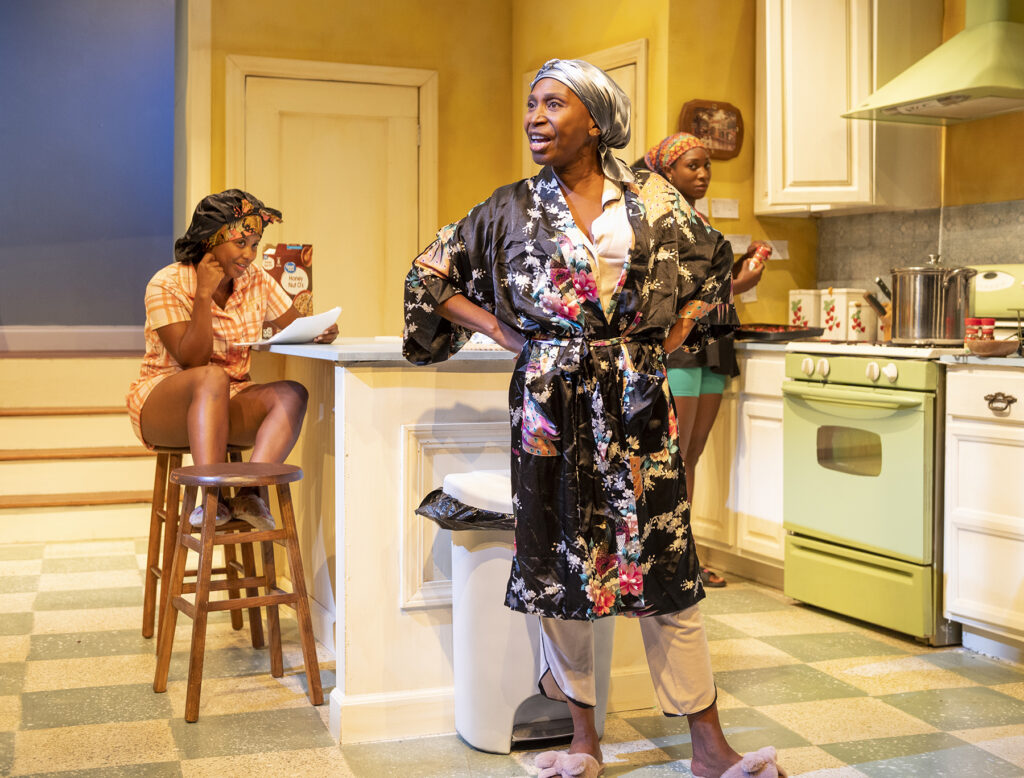 Shattered Globe Theatre through October 22
Recommended
Stew offers up a rich broth, layered with the pain of a family facing troubles, its ingredients a complex mix of mother-daughter relationships, all turned into a savory soup seasoned with Shakespeare. Women rule in Zora Howard's play about a mother whose older daughter and granddaughter return to the familial home where she lives with her younger daughter. Though no men appear in this play, they are present in regular mentions and as forces who drive their women's love, disappointment, fury and grief. This play is indeed a stew, the actors & plotlines mimicking the layering that the family matriarch sees as essential to her delicious culinary creation. It takes time to make & the first batch needs to be tossed because her daughters let the beans burn. The metaphors for motherhood, daughterhood, family and love are meaningful. Each woman contributes a different taste or element to the familial stew and each brings it to a boil at some point.
As Mama, Velma Austin is the matriarch in every sense of the word. Her presence fills up her period-perfect kitchen with its avocado appliances. Her every move is perfect, from her joyful dances around the kitchen while she bops & sings to gospel while stirring her stew to her conversations with her daughters and granddaughter to her heartbreaking portrayal of Queen Elizabeth mourning her dead babies in William Shakespeare's Richard III. The cast is strong and supports Austin. Mama's older daughter Lillian, played by Jazzma Pryor, comes home with domestic problems that she struggles to discuss with her mother. Her daughter, Lil' Mama, wrestles with learning her lines for a Shakespeare performance and imbuing them with the right passion and heartbreak. Mama's younger daughter Nelly, played by Jasmine Cheri Rush, is also hiding a personal issue.
Heavy as this sounds, the often-humorous dialog, and Malkia Stampley's directing, keep the audience laughing and engaged. There is a certain beauty in the boisterous banter of these mothers and daughters, one that sometimes includes all talking at once, a slice of life that is so familiar and comforting. Find the time to enjoy this ode to the females in the family.
Clyde's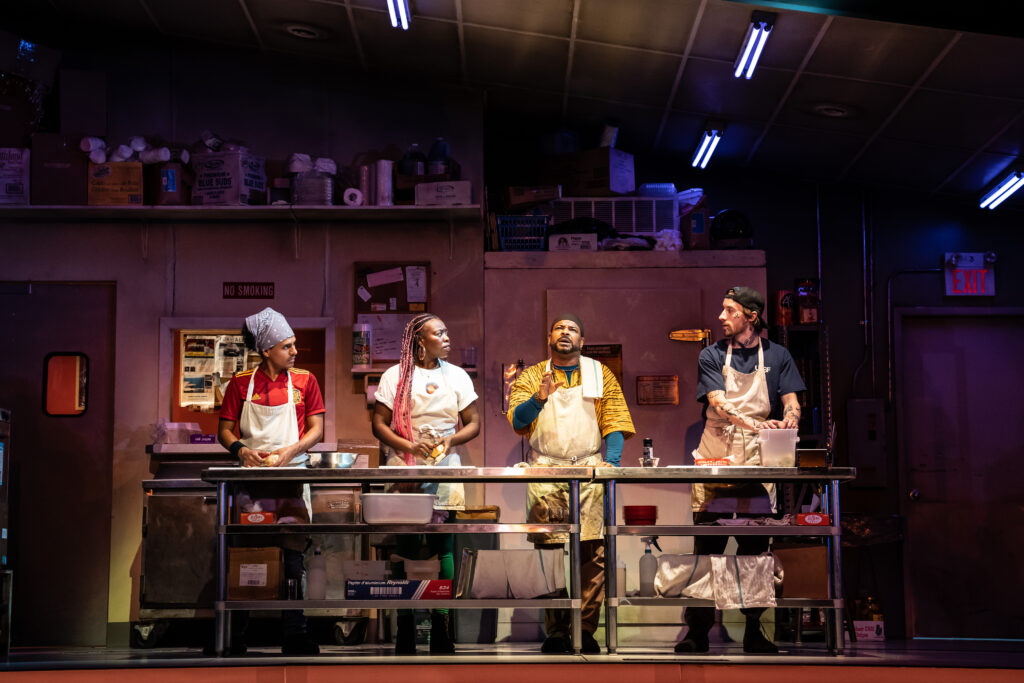 Goodman Theatre through October 16
Highly Recommended
Playwright Lynn Nottage's latest is a hymn to the savory range of sandwiches constructed with love, mouthwatering delights that succeed despite their unlikely ingredients. The sandwiches become a metaphor for the diversity of the characters as they become a corps.
Set in a diner run by a woman who is the devil incarnate, despite her unlikely name of Clyde, this play tells of the ex-cons she hires to labor in misery in her kitchen. On opening night understudy Danielle Davis soared as Clyde, stunning in her cruelty and sizzling in her skin-tight outfits, perfect makeup and spiky nails to match her spike heels, never falling from the heaven she created for herself to the hell in which her employees toiled. Like Lucifer, she presides over fellow former prisoners, using that knowledge as a control mechanism. Her crew grows close despite her cruelty. The magic in her kitchen comes from Montrellous, played with yogic calm by Kevin Kenerly. His every move and word are intoxicating and you want to sample his creative sandwich creations and then follow him to whatever cult he creates. Montrellous' monologues amaze, like his ode to food that starts with a shopping trip others might consider mundane until he unearths the perfect artichoke and describes how he prepared it, culminating in glorious, savory cuisine. His soliloquy on sandwiches, which he praises as the great equalizer, is just as moving. As Letitia, Nedra Snipes is the worried mother, caught between her concerns about what's happening at home, her stresses from work and her admiration for her male colleagues as they create sandwiches to tempt every palate. Reza Salazar is Rafael, the cook who is sweet on her and devoted to bettering himself, one sandwich at a time. Jason, played with appropriate anger and edginess by Garret Young, comes into this tight-knit group as the odd man out. He earns his culinary stripes as they all work to survive while turning out sandwiches and meeting the demands of the never-satisfied Clyde.
Watching these four actors move around the realistic kitchen set with speed and care is like watching a well-choreographed dance. The humor is fast and wicked but Nottage's play, snappily directed by Kate Whoriskey, offers more than wit and belly laughs. So many plays, novels and other art try to show us the good in criminals but fall into cliches or fail in other ways. Clyde's soars here with its five vastly different characters whose stories about what landed them in jail offer poignant individualized portraits. This is a wicked good time with a heart and soul that will persuade you of the significance of sandwiches even as it makes you think about the goodness of people who spent time in prison. Don't miss it!
The Most Spectacularly Lamentable Trial of Miz Martha Washington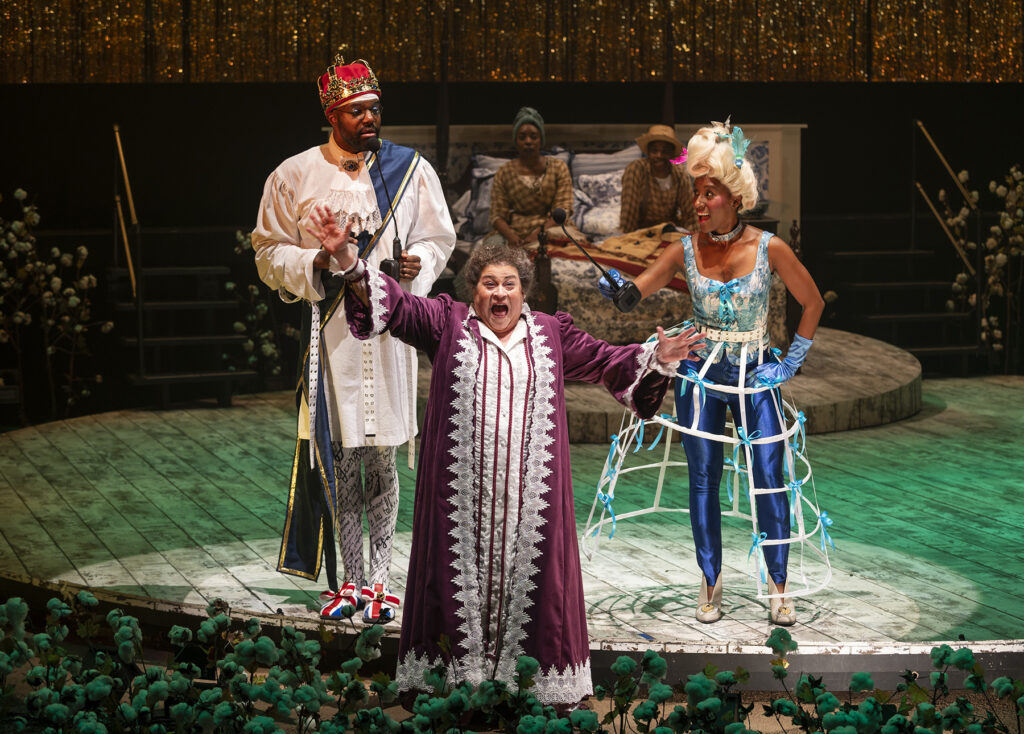 Steppenwolf Theatre Co. through October 9
Recommended
Welcome to Miz Washington's fever dream. Like the best complex dreams, it is a wild ride filled with horror and humor but this dream is also a nightmare about slavery and the complicity of Martha Washington and her famous husband George, in slavery. Would we like to believe that the "father and mother" of our country – at least from 1789 on – declared slavery a moral stain and renounced it? I certainly would but that is not true nor is it the story this play tells. Here we have Miz Washington, delirious on her deathbed, surrounded by her slaves. They all know that that her husband's will freed them at her death, which makes nursing her through this illness beyond impossible.
Cindy Gold brings her considerable acting chops to the difficult role of Martha, far from a heroine in this matter of human chattel. Gold must humanize her without making her seem ridiculous or hateful – except as often as necessary. She does this admirably, surrounded by a cast bursting with talent. They are so strong collectively and individually that all need to be named – Sydney Charles as Priscilla, Carl Clemons-Hopkins as Davy, Celeste M. Cooper as Doll, Nikki Crawford as Ann Dandridge, Victor Musoni as William and Donovan Session as Sucky Boy. For 90 minutes, this enslaved corps explores our original sin through Hip-Hop, a trial, vaudeville, a game show – this being the least successful of the lot – conversation, song and dance. While the performances by the enslaved are often hilarious, playwright James Ijames cautions against seeing this work's laughter "as light or fun." Rather "it's more like showing one's teeth," he explains at the start of his script and in the program notes. "Their laughter is hostile. Loud! Laughter is a weapon." That laughter, a strong current throughout this play, binds the historic with the contemporary, the facts with the fantasies, the humor with the horror. The fantastical costumes and set, with Miz Washington's bed moving around the stage, add to the "spectacularly" fevered pitch of this play.
There is tons of talent on this stage and director Whitney White keeps it moving so that the actors and their audience are swept up into this high-speed trek through our ugly history of slavery. It is a story worth watching for how it makes you laugh and marvel at the moment, and keeps you thinking long after that.
Chagall in School
Grippo Stage Company at Theater Wit through October 8
Highly Recommended
The lure of Chagall in School is its success with balancing art, ideas and revolution while leavening those heady subjects with humor. James Shermans' new play is about the several years in which Marc Chagall returned to his Russian hometown of Vitebsk, assembled a faculty of artists and started a free school for anyone who wanted to make art. And there the fun begins. Sherman's play puts its audience right in the middle of a series of intense discussions about the meaning and power of art but there are plenty of laughs as the artistic corps tangles and faces the limitations of Russia in the years right after the Bolshevik Revolution. Director Georgette Verdin is equally effective whether its intellectual debates or high jinks. The actors clearly enjoy the lively dialog, whether it is passionate or playful acting makes this an enjoyable evening with arguments and ideas that resonate after the show.
The humor is definitely Jewish and Russian, critical of the politics of the moment and the realities of being Jewish in a country of pograms, which is most appropriate since Chagall was both. That irreverent but honest style works especially well as the characters face bureaucratic and political obstacles. John Drea is charming as a boyish, optimistic Chagall, pursing his dream of art for all as he revels in the love of his snappy wife Berta. Yourtana Sulaiman, a stunning beauty, plays Chagall's no-nonsense beloved and main supporter with charm, wit and an edgy empathy. Daniella Rukin brings the required spunk to her portrayal of Russian Artist Vera Ermolaeva, who succeeded Chagall as the head of the People's Art School in Vitebsk.
Art animates this play thanks to Erin Pleake's excellent projections of paintings by Chagall and his artistic colleagues that appear behind the actors, deepening our understanding of their identities. Becca Duff's costumes are period perfect.
This play illuminates a part of Chagall's life that may not be familiar to his fans and deepens our appreciation of what he created on canvas. When it opens, Chagall in School seems like it will be a light-hearted comedy about a Russian-French artist but Sherman's deft use of comedy goes beyond making you laugh out loud. It draws you into some of the age-old debates about who decides what art is, how one's life inspires art, how art and life intersect, what role politics plays in art, who should have access to art. Those pressing questions, along with the promise of some good belly laughs, is reason enough to spend an enjoyable 90 minutes with a show that is more rewarding than it might first appear. My prediction is that this one will be performed as often as some of plays for which Sherman is best known so catch this world premiere while you can.
Arsenic and Old Lace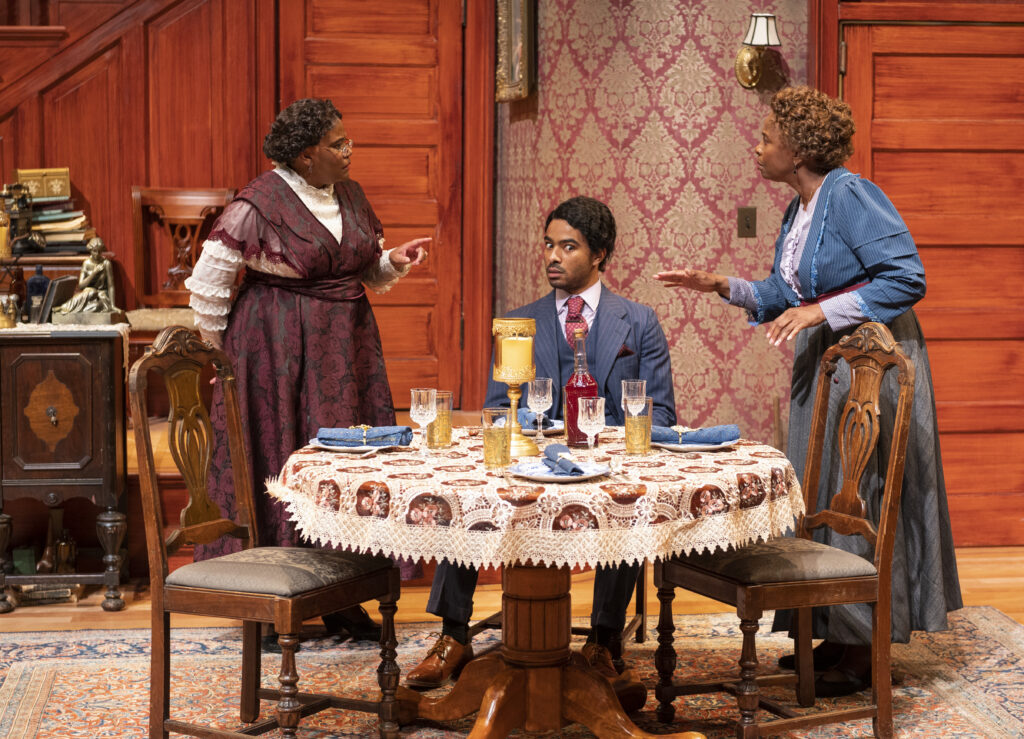 Court Theatre through October 2
Highly Recommended
Spend a hilarious evening with the compassionately murderous Brewster sisters, their delusional and criminal brothers and their charming nephew.
The cast is stellar. The sisters, Abby and Martha, acted with understated excellence by TayLar and Celeste Williams, are ideally cast, playing off against each other with a clear bond of sibling love and irritation. Their collaborative deliverance of lonely old men makes perfect sense to them as the kindest way to disappear their victims' sadness. It is wonderful to see Williams back on stage after too long an absence. Brewster brother Teddy, played by Allen D. Edge with proper military and presidential presence, thinks he is Theodore Roosevelt. When he is not busy building the Panama Canal in their basement, he parades around happy in his delusions. Eric Gerard, as their nephew Mortimer, the only one troubled by what's going on, is a marvel of graceful comic movement and timing, not to mention cartloads of charm. The arrival of the fourth Brewster sibling, Jonathan, a criminal brother, played with menace by stage veteran A.C. Smith, turns everything more topsy turvy.
This is a play with so many antics and humor as to leave you gasping with laughter. Clueless cops cavort among the sisters sweetly serving their poisoned elderberry wine to gentleman visitors, including another Chicago stage veteran, Allen Gilmore, unaware that other criminals are present. One amusing running gag is that the plastic surgeon who slinks along with Jonathan has made him look like Boris Karloff, the actor who portrayed Jonathan in the 1941 play and allowed his name to be used in the 1944 film. Another is that Mortimer is a newspaper theater critic, which leads to many slights to the knowledge, intelligence and judgment of those who review plays.
Director Ron OJ Parson, deeply respected for his brilliance with August Wilson's work and more serious plays, shows himself to be equally adept with comedy. His touch even extends to how the actors use every part of the set, which is a perfect period reflection of the aunts down to every detail. Watching the siblings use of the stairs is a hoot, as are the moves Mortimer makes that marry acrobatics with ballet. The fact that all the Brewsters are Black and all the other characters are white adds a delicious and telling edge to the story.
Having never seen the play nor the famous movie, I came with a fresh perspective to this show and left utterly delighted. Mr. Parson has said he wanted to make people laugh because we all need that at this time. He succeeded. Don't miss this delicious evening of hijinks and humor.
National Merit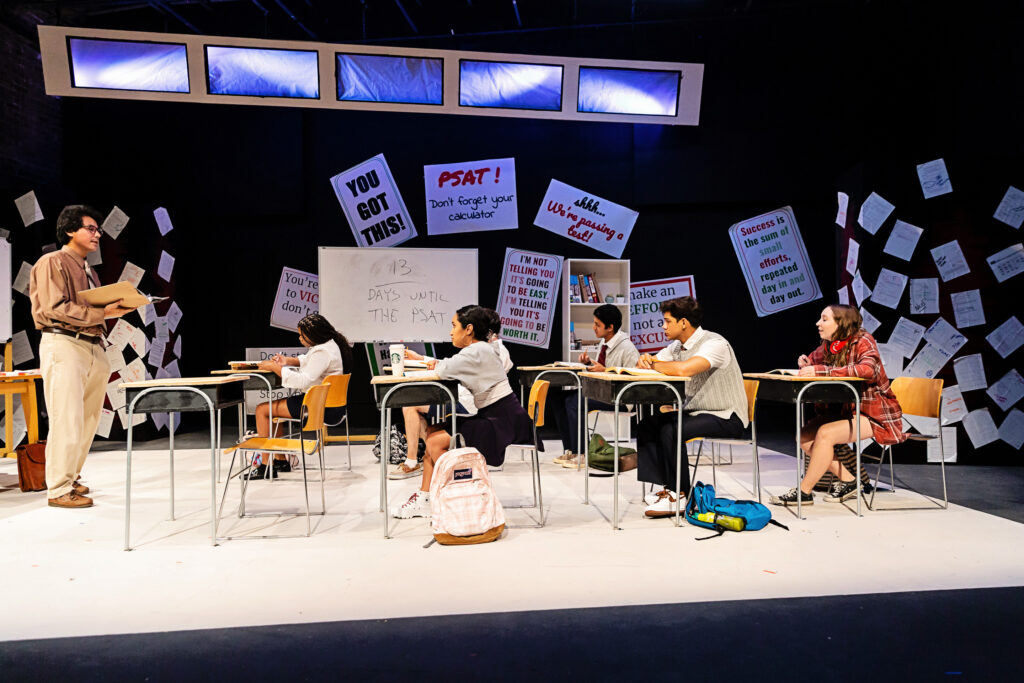 Boho Theatre at Theater Wit through September 25
Recommended
National Merit will take you right back to high school and the tense times of high-stakes testing. It's not a journey full of happy nostalgia but it is one accurately portrayed in a world premiere of Valen-Marie Santos' play. Nimbly directed by Enrico Spada, this piece offers a fresh and authentic take on high-school juniors in a high-scoring cohort who are fiercely competing to be National Merit Scholars. The high stakes, intense battles and emotional woes are played with real passion that captures and offers us insight into the late teenage years by a corps of seven young actors, many still in college. All are good but a few particularly interesting characters stand out. Ariana, well-acted by Maddie Powell, shows how deep intelligence leads to nuanced understanding and makes it hard to select a simple answer on such a test. Sripadh Pulligilla brings a sweetness and smarts to Yash, the son of Indian immigrants. As buddies Camila and Cisco, Tatiana Bustamante and Alex Rocha, remind us of the intensity of high-school friendships. Amber Washington plays the sole African American in the group with appropriate rage that finally allows some of her classmates to see what being a token means and come a bit closer to understanding racism. Justin Kuhn does a nice turn as the clueless white male whose pranks too often touch cruelty.
The opening audience reminders playfully evoke the testing atmosphere, a mood continued by the set, a spot-on recreation of a high-school classroom with its depressing desks and irritatingly cheerful motivational posters.
There's a certain tragedy in the fact that we are still battling the very real limitations of standardized testing, especially for those of us who lived through the 1960s when it seemed that finally a consciousness was emerging about these tests' inability to subtly measure intelligence because they were so focused on giving high scores to those who learned how to take the tests. Alas National Merit proves that this was but a brief phase. It nicely updates the old battles with its multi-racial cast and plot lines that demonstrate how universal this particular competition remains. This play will make you ponder what we really know about intelligence and whether such stresses are necessary.
My Brother Langston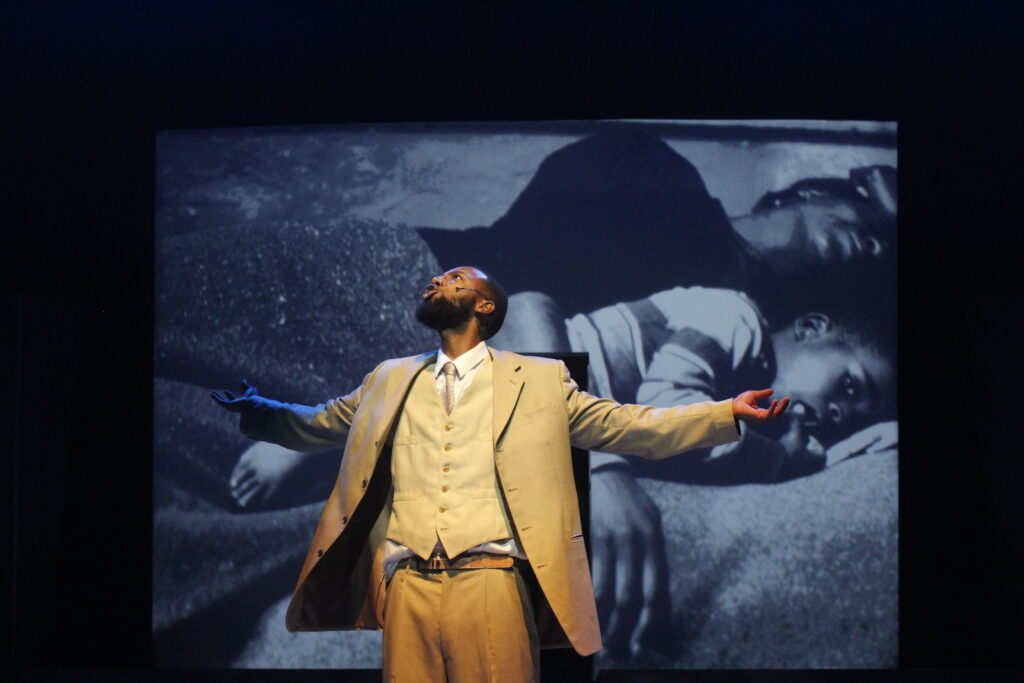 Black Ensemble Theater through September 18
Recommended
One of the delights of My Brother Langston is how much of Langston Hughes' poetry is given dramatic form. Among the 10 poems featured is "The Negro Speaks of Rivers," the first poem that brought Hughes acclaim when it was published in the NAACP's The Crisis in 1921. Its recitation marks the start of many journeys – artistic, intellectual, emotional, political and geographic – that the young writer and social activist will make in this show that focuses on his early years. Those journeys are enhanced by Hughes' poetry from less familiar poems to his iconic "Harlem" poem, with its famous lines "What happens to a dream deferred? /Does it dry up / like a raisin in the sun?" Playwright and Director Rueben Echoles, a Black Ensemble stalwart, nicely pulls in major influences, from Hughes' admiration for Walt Whitman and Carl Sandburg to his delight in the Jazz of his time to his love of the richness of Harlem, where he was to become a leader of the Harlem Renaissance.
As Hughes, Chris Taylor offers an upbeat portrait but not a simple one. His portrayal is beaming, engaging and it affably yet passionately conveys the way Hughes' art drew from his life, whether it was memories of his adored maternal grandmother, his less-than-perfect parents, his college years, his possible love affair with Countee Cullen, his friendship and work with Zora Neale Hurston and more.
The fine singing and exuberance dancing that is a hallmark of Black Ensemble is impressive especially since the cast numbers only five. Their work is enhanced by big-screen projections of settings and compelling visuals, and by the always-stellar Black Ensemble musicians. It's a pleasure to see André Teamer, a senior Ensemble member, in a range of roles from Hughes' father to Cullen. Nolan Robinson plays Hughes' close stepbrother with warmth and sweetness. Reneisha Jenkins and De'Jah Jervai expertly inhabit a number of roles, moving through the women in Hughes' life from family members to artists like Billie Holiday.
This new show is, in some sense, a lesson but not a boring one. Rather this exploration of Langston Hughes' early years bursts with life and well-written lines, whether spoken or sung, giving its audience much to contemplate and enjoy. It will leave you wanting to know more about this beloved artist and activist.
Hurricane Diane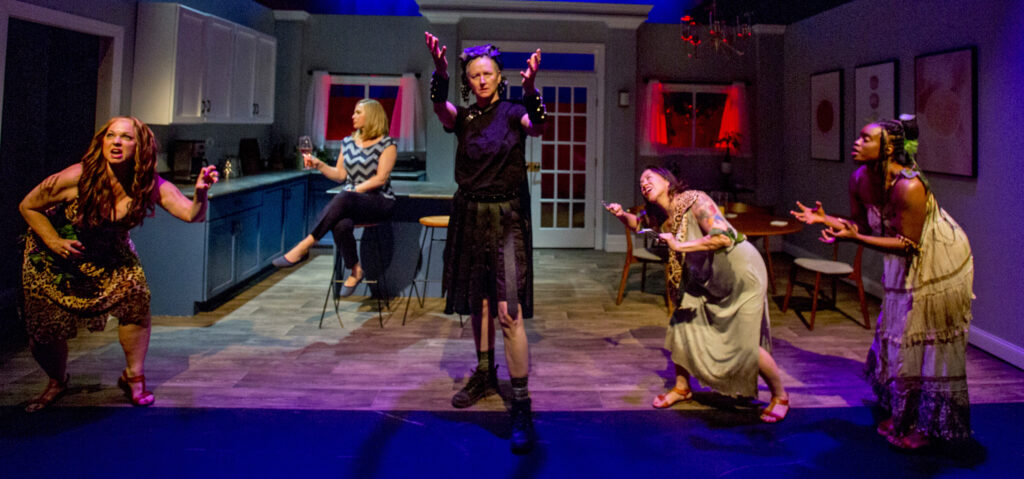 Theater Wit through August 14
Highly Recommended
Imagine a comedy about climate change. Hard as it is to fathom, Madeleine George's blisteringly funny new play tackles the horrors we face with humor at the highest and lowest and all levels in between. It starts with he Greek goddess Dionysus, riotously portrayed by Kelli Simpkins, storming into a suburban New Jersey cul-de-sac determined to save the world by using the old Olympic trick of disguise to fool the mortals. She becomes Diane, a lesbian gardener/landscape designer who works her wiles on four suburban female friends. Seductive words tumble from Diane's lips, along with references to Greek mythology, bitingly funny quips about pop culture, suburban life and much more. Simpkins, long a favorite on Chicago stages, is excellent in this comic role. The suburban women are no slouches either. Jazmin Corona, Aneisa Hicks, Carolyn Kruse and Lori Myers camp it up without ever quite falling into the stereotypes they play.
The set design is clever. A suburban kitchen is transformed by a change in flowers and garden views that summon up the personality of each of the New Jersey women. The costumes are perfection as they channel every character from corporate to "married to the mob" to hippie-dippy to Eileen Fisher finesse. The whole 90 minutes will have you chortling and howling with laughing as you marvel at the breakneck wit and depth of George's dialog, and the perfect portrayals of her characters expertly directed by Jeremy Weschler. The return of this playwright to Theater Wit – Weschler also did a fine job directing her wildly funny and smart "Seven Homeless Mammoths Wander New England" eight years ago – is most welcome.
Make no mistake though this is a play about the battle between what humans have done to the earth and how the earth can be saved. Go for the humor, stay for the message but whatever you do don't miss this one. Fortunately this 2019 Obie-winning Best Play has been extended to August 14 so you have plenty of time to enjoy it.
Summer and Smoke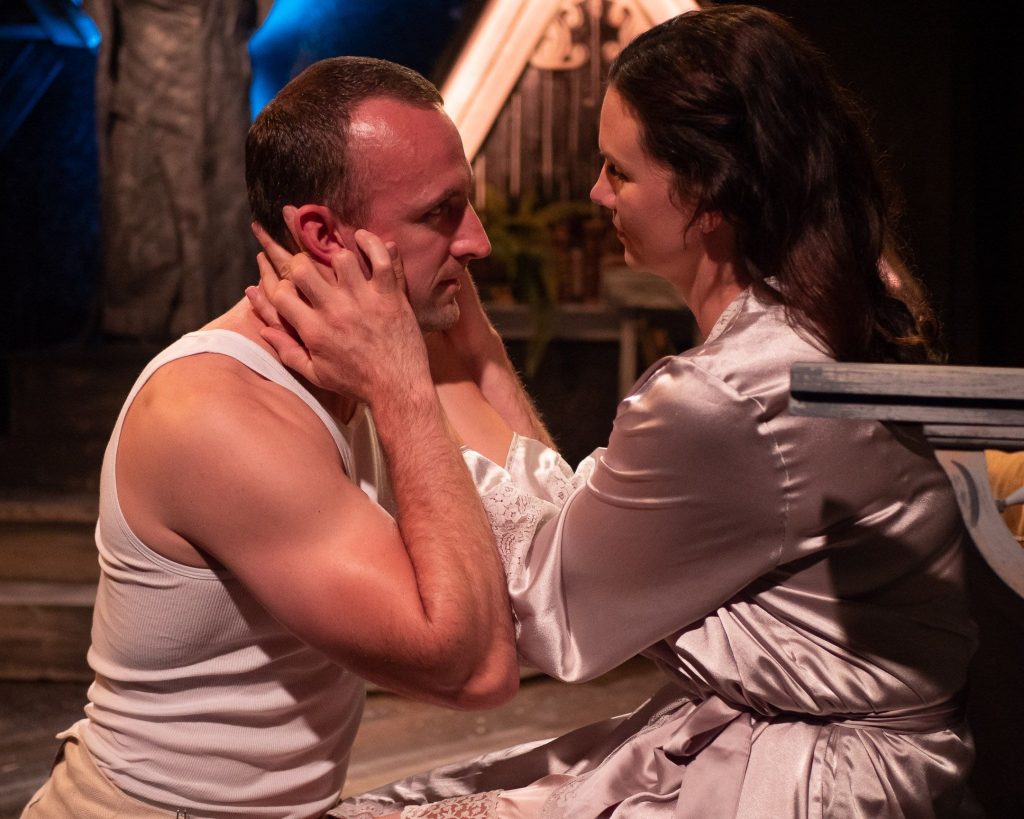 Violet Sky Theatre through July 31
Recommended
Spend a steamy summer evening with a classic Tennessee Williams drama about the battle between love and passion, sexuality and spirituality. Summer and Smoke, in an impressive inaugural show for Violet Sky Theatre, captures the essence of the struggle between Alma Winemiller, the deeply intelligent but nervous and unmarried minister's daughter, and John Buchanan Jr., the son of the beloved doctor next door. This son, now a doctor himself but also a rake and wild lost soul, is home for the summer, reigniting Alma's lifelong love for him. The chemistry sizzles between Alma, played to perfection with a complex mix of smarts and nerves by Lindsey Zanatta, and John, portrayed with the right touches of tortured raffish cad by Joshua J. Volkers. There is heat on the spiritual side as well. Much is made of the fact that Alma means "soul" in Spanish and there are important angels in this play, including the one who dominates the stage.
Aside from the leads, Debra Rodkin is particularly wonderful as Mrs. Winemiller, Alma's mother, adding depth, humor and a nice dose of wickedness to the role. Despite all the drama and sexual tension, including some surprises and twists that one expects in a Williams play, there is humor here, which the rest of the cast provides with relish.
The set works particularly well at complementing the hot summer nights in Alma's family home and the very personal encounters in the doctor's office with its period pieces that summon up the early 20th century South. One particularly nice touch is the partial wood-framed window sills that flank the stage, allowing the actors to gaze out into the audience and muse or watch the other characters' comings and goings. It's a marvel to convey so much in such a tiny space but Kevin Rolf's splendid scenic design and Chad Lussier's atmospheric and appropriately dramatic lighting, along with Eden Blattner's sure directing, make that happen.
Fans of Williams' work – this play was written and produced in the same period as A Streetcar Named Desire – will enjoy this show. It's a fine introduction to a great American playwright for those who have yet to experience the wonders of Tennessee Williams.
Pearl's Rollin' with the Blues: A Night with Felicia P. Fields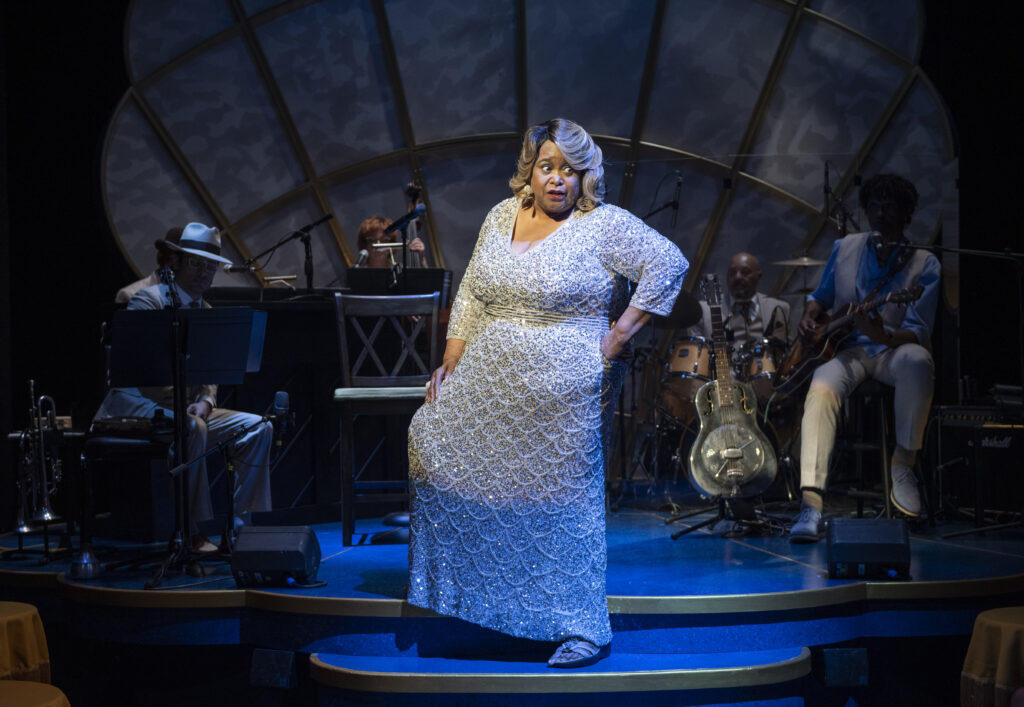 Writers Theatre through July 24
Highly Recommended
An evening spent in the company of Felicia Fields is guaranteed to be a pleasure because of her rich and versatile voice, dramatic chops and wicked sense of humor. Pearl's Rollin' with the Blues: A Night with Felicia P. Fields is no exception.
It is a warm and personal evening framed by Fields' strong emotive voice and filled with fine music and song from her accompanying musicians, good-natured ribbing of the music corps, a bit of wicked repartee with audience members in the first row of club tables, some tales of her youth and a wide range of songs. Part of the appeal is the force of Fields' personality, her tell-it-like-it-is style with the right doses of sauciness and seriousness, and her ability to express and interpret songs but the show is taken to a different level by Fields' view that the Blues can include happy emotions too. She starts with the classic "Wang Dang Doodle" before heading into "They Call Me Big Pearl / Built for Comfort." Felicia's middle name is Pearl and the song fits her as well as the sparkling, opalescent dress that hugs her form. So do some of the other vocal choices of the evening. "My Stove's in Good Condition" pays homage of the sexiness of Blues great Bessie Smith's spicier numbers. "You Can Have my Husband" is another charmer. The closers "Everyday I Have the Blues" and "Blues Is All Right" offer a fine finish.
Esteemed Director Ron OJ Parson, who has worked with Fields on many shows and co-created this one, makes sure his star sparkles. So do her musicians. Chic Street Man is the show's music director and guitarist. His style is a bit more folksy than feels right sometimes but his rapport with Fields is clear, especially when she mocks the simple lyrics of "Hey, Hey, Baby, Hey." His gentle amused response is that the song is Big Bill Broonzy's. Dapper Ricardo Jimenez plays a mean horn and harp. Julie Poncé's years of experience flow out of her out on her bass. Frank Menzies conducts with character and masters the keyboard with style and finesse.
Spend an evening with this musical crew and you will experience a rainbow of blues.
Choir Boy
Steppenwolf Theatre Co. through July 24
Highly Recommended
Here is a perfect ensemble experience both for the singing and the ensemble acting by a corps of five young men in a Black all-male school. Under the sure direction of Kent Gash, these young men move with an authenticity that captures the way teenagers interact with each other and the world, fine group work that reveals many unspoken truths about each character and the group. It is a joy to behold.
While the characters in Tarell Alvin McCraney's excellent Choir Boy each have elements that are familiar the writing and acting transcend typecasting. Leading the crew at opening as Tyler Hardwick as Pharus – Jos A Banks is now in that leading role – who struggles with his desire to be part of his school's community and a fully out gay man despite intense homophobia and hate from his classmates. Gilbert Domally is persuasive as his seething nemesis, who spits out the homophobic slur that starts the play and is somewhat protected by his uncle the headmaster. The most moving portrayal comes from Sheldon D. Brown as AJ, Pharus' all-heart roommate whose size and strength offer armor that allows him to be a compassionate and wise soul. All these gentlemen give nuanced performances, moving deftly from anger to joy, humor to hatred, as they burst out of adolescence and into adulthood. The one disappointment is La Shawn Banks, a wonderful actor, who plays the headmaster in far too comic a way. His is the one portrayal without depth.
The set matches the beauty of the songs with its elegant arches and striking lighting. The shower scenes are particularly striking and beautiful. None of it could have happened without McCraney's lovely play, one that glitters in its gorgeous complexity and humanity. As he did with his other plays performed at Steppenwolf, where he is an ensemble member, and in his Academy-Award-Winning movie Moonlight, this playwright manages to make the mundane shimmer as he guides us to new insights. Make this play a part of your life.
The Luckiest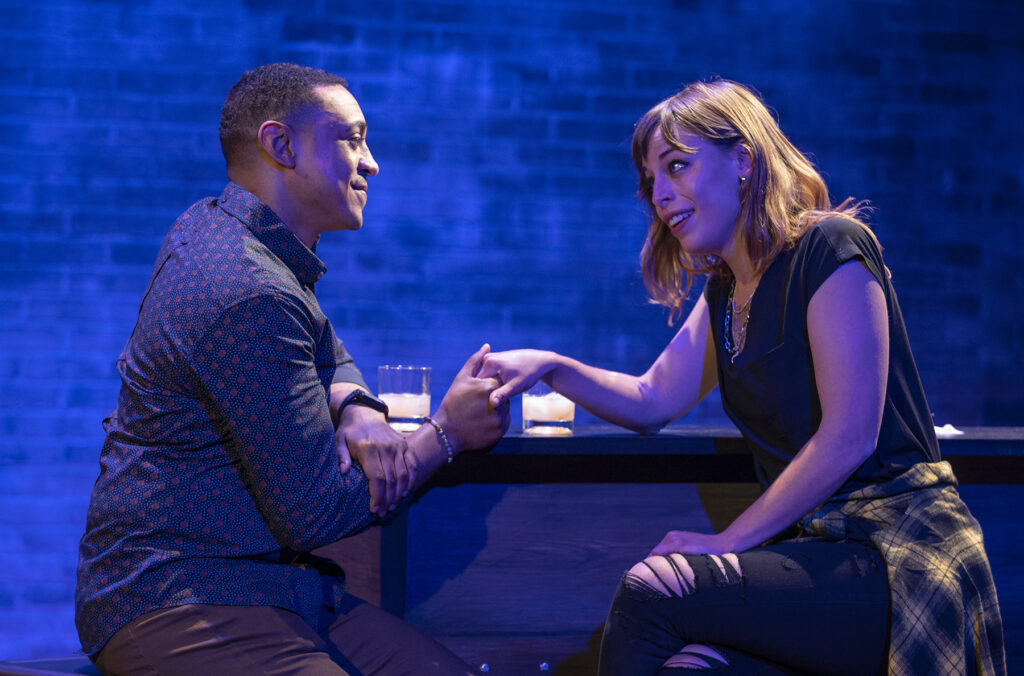 Raven Theatre through June 26
Highly Recommended
What's so wonderful about The Luckiest is how it takes what could have been an unbearably tragic situation and shines the light of love and humor on it using three fully realized characters who are believable and engaging.
The stories that form the return to Chicago stages are often tragedies, stories of death and dying, loss and love, but many offer humor as well and The Luckiest leads this corps. Director Cody Estle has just the right touch for Melissa Ross' tale of the smart, strong and funny Lissette who has to come to terms with her diagnosis of ALS and seize as much control of the situation as possible. Cassidy Slaughter-Mason does a brilliant turn as the spunky young woman, from the opening scenes of banter in a budding friendship to the silent woman in the wheelchair who can still smile and is still in control. Christopher Wayland is Peter, a soft-spoken gay man who develops a friendship with Lisette at a party, a friendship that grows and never slips into the stereotypes of gay-straight relationships. That relationship is at the center of this play and the tenderness between these two makes you want to walk onto the stage and be part of the magic they share. The other relationship here is more fraught. As Lisette's mother Cheryl, Tara Mallen, a veteran of the stage who rarely takes a false step, perfectly conveys the challenging role of a strong mother of a strong daughter, always wanting to respect her child's independence and tenaciousness, and even admiring it while wanting to take over and make it all right. Not surprising that the two don't necessarily see how similar they are.
The result is a play that stays with one thanks to this mighty trio of actors, well-directed in a lovely, funny and moving play, manages to be up-to-the-minute – when Lisette's mother and her friend share their war stories about dating apps it is warm and the dialog is funny and delicious – and profound at the same time. The playwright never shies away from showing the anger about living with a wasting disease, anger felt by all who love the person diagnosed, as well as the rage over the loss of control of one's body. Yet she, and this cast, director and crew, imbue this piece with dignity, humor, intelligence, friendship and the complexities of mother-daughter relationships.
The Luckiest has been extended until June 26th. Make sure you see it before it leaves us.
The Chinese Lady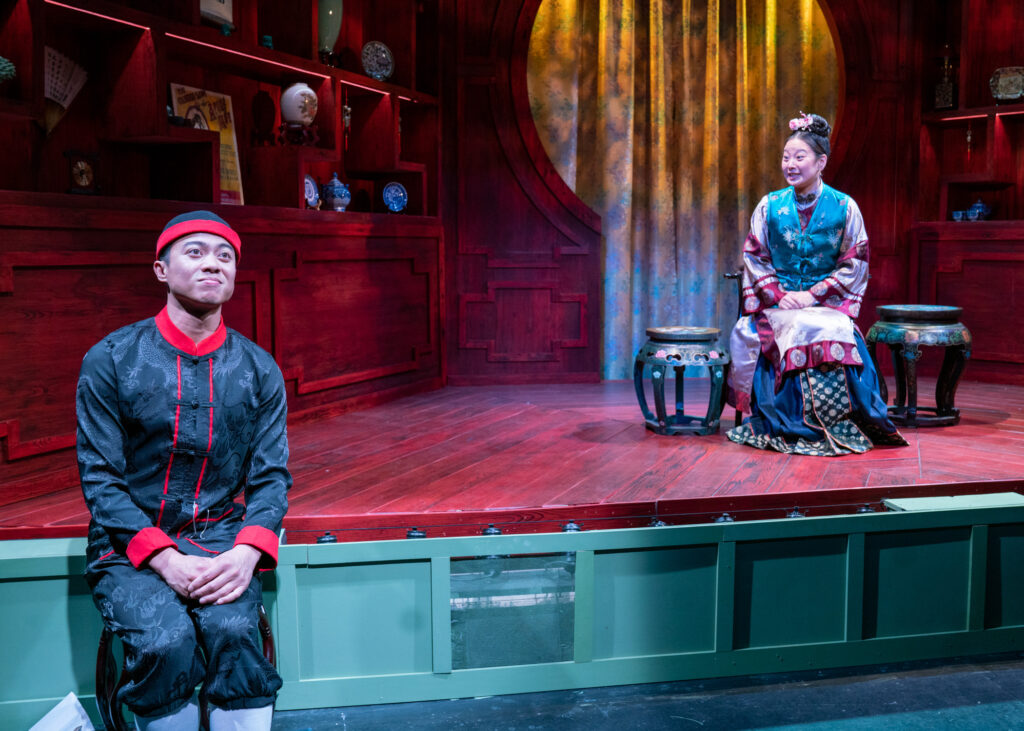 TimeLine Theatre Company at Theater Wit through June 18
Highly Recommended
From the moment the actor sits on the edge of the stage in jeans and a t-shirt before the play begins & looks carefully at her audience as it engages in pre-show chatter, the tone is set. It is one of curiosity and kindness, and her focus, along with her smiles, set the stage for what is to come.
When we next see Mi Kang she is transformed into the 14-year-old Afong Moy, and is wrapped in beautiful Chinese silks sitting in a jewel box of a room, also rich with the silks, artworks and furniture of the Silk Road. Afong explains that her family has sold her into service for two years during which she will be displayed for an admission fee. This enterprise is, Afong explains, a false construct but an important act of cultural diplomacy. She hopes to help Americans understand the Chinese who are beginning to come to these shores. For those who pay to gawk at Afong, listen to her commentary, watch her serve tea and promenade on her small feet, this creature fits right into the American fascination with the other and grotesques. It comes as no surprise that Afong's act is eventually taken over by P.T. Barnum.
Kang expertly chronicles Afong's life, using charm cut by candor to explore the American interest in her, express disappointment over the lack of deeper understanding of or appreciation for Chinese culture and walk her audiences – the ones she addresses as she ages in the play as well as her contemporary audience sitting in a Chicago theater. The arrival of Chinese immigrants, followed by the ugly history of anti-Chinese sentiments and laws in this country are woven into her narratives. Kang handles the clever conceits and weighty concepts of Lloyd Suh's play with aplomb.
In a smaller but incredibly important role is Glenn Obrero as Atung, her translator. It quickly becomes clear that he is so much more. Here is an actor who knows how to play second fiddle in an impressive range of keys. Their interaction is tense, funny, almost warm and essential to the play.
At heart this is a play about the difference between looking and seeing, about the American obsession with the other, about our inability to overcome our prejudices and fear of foreigners. It has a timeliness now with all the recent hate crimes against Asians but it is a play for all time as it reveals our interest in looking that so rarely evolves into our ability to see. That makes it universal and essential for any theatergoer. Although it closes on June 18th, TimeLine Theatre Company has added virtual viewing options so you can catch this moving and important piece.
A Theatrical Trio of the Highest Order
A trio of iconic plays closing this weekend offers some dramatic gems that were meteoric in their respective centuries and continue to shine in ours.
Seagull
Steppenwolf Theatre Company through June 12
Highly Recommended
Start with Anton Chekhov's Seagull in a brilliant translation by Steppenwolf Ensemble member Yasen Penyakov, who also adapted and directed it. His version of this inter-generational contemplation of art, love & family captures the melancholia of its Russian characters but also their humor, so often lost in American productions. The late Sheldon Patinkin, a brilliant director himself and teacher and mentor to many in Chicago theater, once told me that the problem with most American productions of Chekhov was that bad translations lost the humor. His Uncle Vanya, also at Steppenwolf, where Patinkin had deep ties, and featuring Austin Pendleton, was the first laugh-out-loud Chekhov I experienced. Penyakov's Seagull is the second. No doubt the stellar cast of Chicago's well-respected actors – Keith Kupferer, Sandra Marquez, Caroline Neff, Jeff Perry, Karen Rodriguez, Joey Slotnick, Namir Smallwood and Lusia Strus, with fine turns by newcomers – help make this version soar but the magic Penyakov works is estimable and leaves one with many questions and thoughts, as well as lovely images.
Edward Albee's Who's Afraid of Virginia Woolf
Invictus Theatre Co Chicago through June 12
Highly Recommended
Next head to Invictus Theatre Co for an appropriately searing production of Edward Albee's masterpiece Who's Afraid of Virginia Woolf. It's hard to top the stunning movie with Richard Burton and Elizabeth Taylor as the warring older couple or the unforgettable 2012 Steppenwolf version with Tracy Letts and Amy Morton but this tiny storefront equals it, and offers a better youthful duo as the eager new professor and his spouse. Letts gave us a whole new take on George and his pairing with Morton brought out the love in their relationship. That is present here too in James Turano's exhausted but cruel George and Andrea Uppling's shrill and smart Martha. In this production, perfectly directed by Charles Askenaizer, every member of the famous foursome is fierce, including the young couple. Keenan Odenkirk as Nick, the bright young biologist, is the right mix of charm and smarm. Rachel Livingston as Honey, reinvents the role as his initially dingy but ultimately not-so-slow wife. The period-perfect set in this tiny theater makes you feel that you are part of this disastrous evening. As with any classic, the play comes alive with this fine new version. Young Nick can now be read as the shiny but not intellectual future of higher education, ready to do anything to get ahead without a care for or clue about history, a terrifying thought. And so Who's Afraid of Virginia Woolf moves more generations with its tragic love story and meditation on success, power and love.
Two Trains Running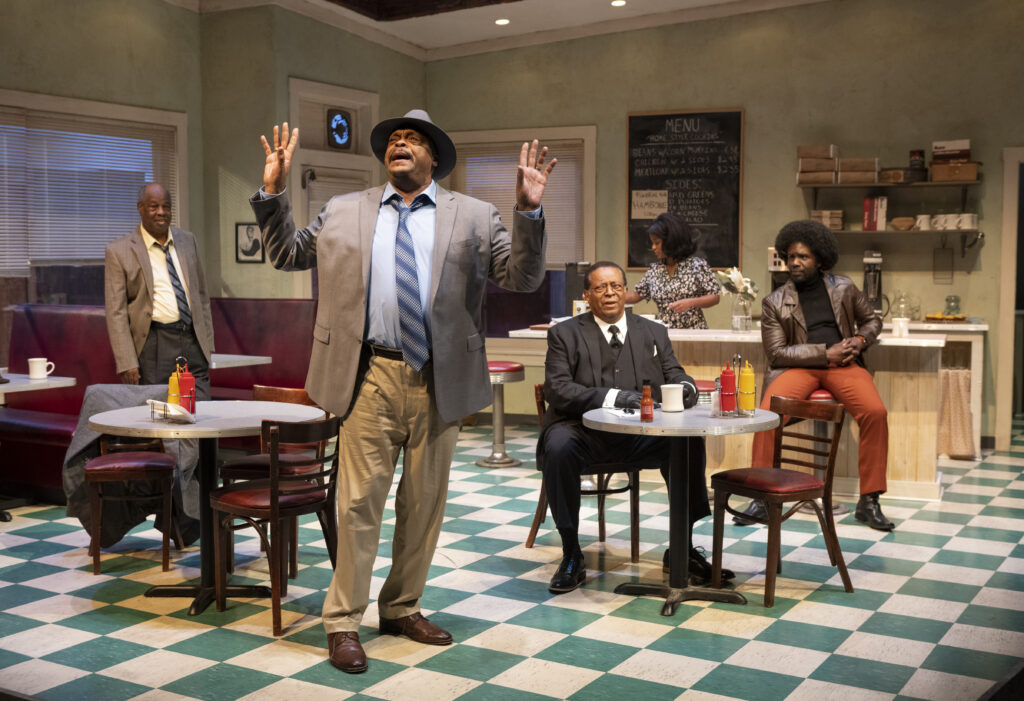 Court Theatre through June 12
Highly Recommended
Finish with August Wilson's Two Trains Running at Court Theatre where a splendid cast does the bard of Pittsburgh proud with its interpretation of this Wilson's1960s play from his set of 10, one for each decade. This is one of my favorites of Wilson's opus, and I've seen many lovely productions of it but Ron OJ Parson applies his usual directorial magic to this one. His cast is ideal. A.C. Smith offers his hallmark mix of bluster and facial expressions that are worth a million words. Ronald L. Connor is all slick fashion and business as Wolf, the manager of bets for "the Hill," the Pittsburgh neighborhood where Wilson's plays take place. Kierra Bunch is a fine blend of tough and tender as Risa the waitress. Jerod Haynes is the just-released-from-jail young man who romances her with his unusual sense of equity and hope. Alfred H. Wilson is the wise Holloway who seems to try to stay out of trouble but knows the score on everything and everyone. Cedric Young presents an OCD version of West the undertaker that works even as it amuses. Joseph Primes manages a range of emotion in the most limited role with just a few words at his disposal. Together, in a perfectly realized old-style restaurant, this corps brings this lovely story to life, capturing the heart and soul of each character as well as the decade in which they struggle to exist.
At the Vanishing Point
Each one of these three plays deserves its place in the firmament of drama, and each one of these productions insures its place there. Don't miss any of them.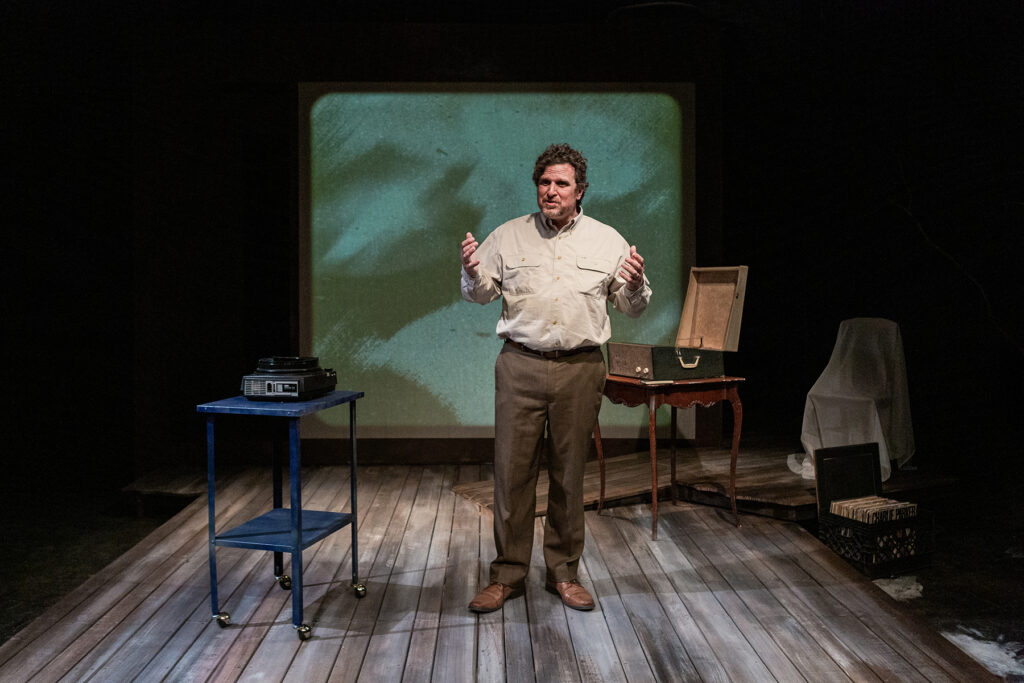 The Gift Theatre at Filament Theatre through May 22
https://thegifttheatre.org/shows-events/at-the-vanishing-point
Recommended
From the moment he takes the stage, and he is the first one to do so, Paul D'Addario, engages you. It is not only that the man is a fine actor – always has been – but that the ophthalmologist and amateur photographer he plays is so engrossingly smart and passionate and quirky, and D'Addario so brilliantly inhabits him, using every gesture and smile to bring us into his mind and life.
He is our introduction to what turns out to be an exploration of a Kentucky town and how its inhabitants, in a series of monologues, remember the events they have experienced and others from their town's history. Most of the characters and actors are strong but none reach the level of D'Addario or his eye doctor. What we get is an often lovely, and sometimes funny, view of this community of ordinary people living often full and passionate lives. This is not an uncommon dramatic approach but it works here for the most part, especially as the individuals and stories connect. The piece seems especially timely now, as many of us still exist in partial isolation, as it stresses that community can be found even when we are apart. D'Addario, who makes a second appearance, is the intelligent and compassionate string that connects us and keeps us on the line. His radiance in this role is not to be missed.
Spring Awakening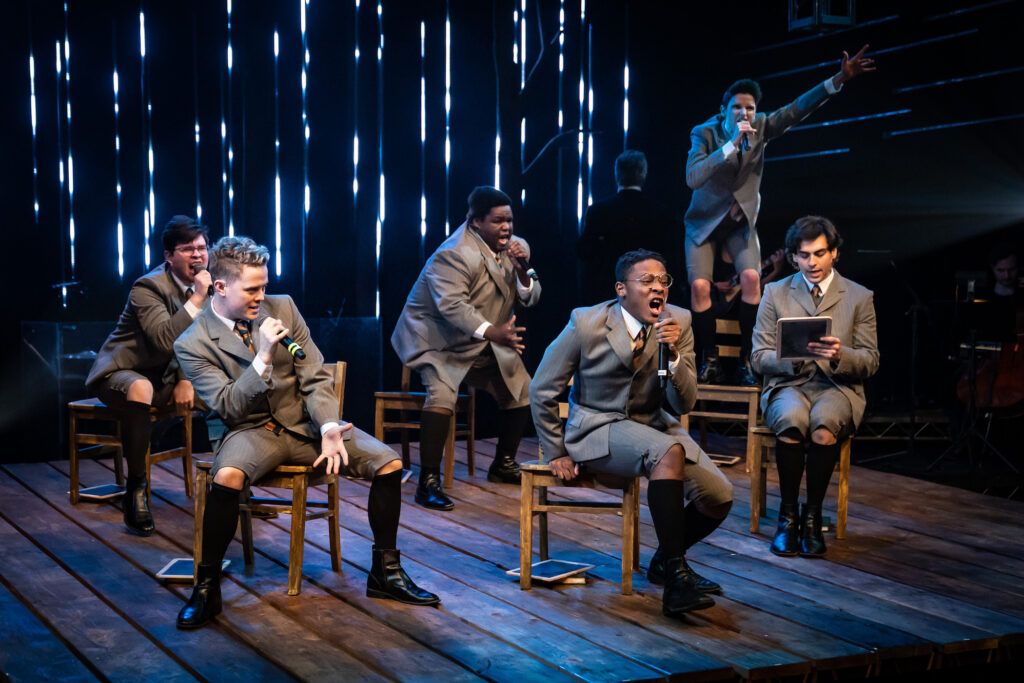 Porchlight Music Theater at the Ruth Page Center for the Arts through June 2
Highly Recommended
Imagine a teenage version of Der Struwwelpeter, the 1845 book of cautionary tales that terrified so many German children. Add rock music, adolescent angst, puberty, profanity and 19th century German repression and you get Spring Awakening, a rock musical now in a compelling production by Porchlight Music Theater. There have been a number of productions of the 1891 German play, including off-Broadway and Broadway versions that won multiple Tony Awards, but Porchlight, as always, finds the gritty, angry essence of the piece.
Brenda Didier works her usual directing and choreographic magic on this story of three teenagers who explore their growing sexuality in small-town Germany running smack into German provincialism and fighting it at every step. Didier's deft touch hits all the right notes to complement the score that alternates between rock rage, teenage passion and adolescent melancholia. Her trio is excellent, as are the teenagers who form their youthful community, and the two older actors who master multiple roles with relish, but the standout is Quinn Kelch as Moritz. He oozes punk rock rage but cools it down with a David Bowie aura that works brilliantly, and his versatile face and comic timing are a delight.
The total package captures and conveys the ups and downs, the mood swings of anyone's turbulent teens, but more particularly these young people's, trapped as they are in an especially punishing and judgmental Germany. Don't miss this unique American musical.
All's Well That Ends Well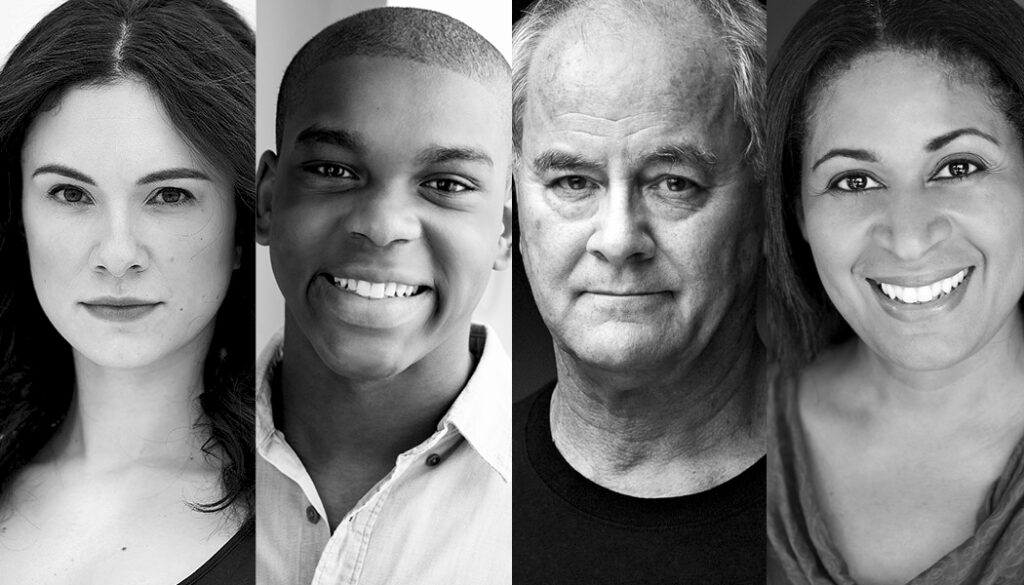 Chicago Shakespeare Theater through May 29
https://www.chicagoshakes.com/plays_and_events/allswell
The besetting problem with All's Well That Ends Wells is that it doesn't. That makes this particular tragi-comic Shakespeare play a tough one to do. Not that other of the Bard's plays don't have their challenges – consider The Merchant of Venice, Othello, The Winter's Tale – but over the decades, in the hands of brilliant directors and actors, some at Chicago Shakes, we've gained new insights as we've watched the Bard's classic works reimagined, proving their enduring genius. Recall CST Founder & Artistic Director Barbara Gaines' first King Lear,in which she illuminated the actions of that troubled king by seeing him as a man in the early stages of Alzheimer's. Astonishing.
No matter what lens one uses, All's Well That Ends Wells proves difficult. A Feminist lens is impossible. It put the play squarely in the province of Taming of the Shrew, a play that is nearly impossible to do in our time. While it's true that most of us know someone who showed terrible judgment in love, it's still a stretch.
So it's particularly impressive that this production is an enjoyable one — as long as you don't get too annoyed with Helen for being so smitten with the loser Bertram. Alejandra Escalante plays the orphaned daughter of a countess' doctor in a charmingly straightforward way, as a woman who isn't made so stupid with love that she can't plot to make matters turn out as she wants. The antics of those with whom she devises her plan are amusing enough to take your mind off the stupidity of the pursuit. The fault is in the play and not with the actors. Dante Jemmott does his best with the immature Bertram.
The real stars here, not only because their characters aren't mired in qualities that exasperate or horrify us, are the countess and the king, both played by long-respected and stellar Steppenwolf actors. Ora Jones brings classy calm and strength to the recently widowed countess, who is caught between being mother to Bertram and guardian to Helen. Francis Guinan's King of France regains his regal strength after Helen cures him and is persuasive in every breath. I've never been disappointed by either of these actors in my decades of Chicago drama and, yet again, they prove perfect here.
The other saving grace of this production is the wit and humor that Director Shana Cooper and her cast, which has no weak links, bring to the play. Even with the central problem of a truly mismatched couple, there are moments of joy here that are not to be missed, and a spunkiness and charm that are infectious as we join this excellent cast in watching the events unfold.
Intimate Apparel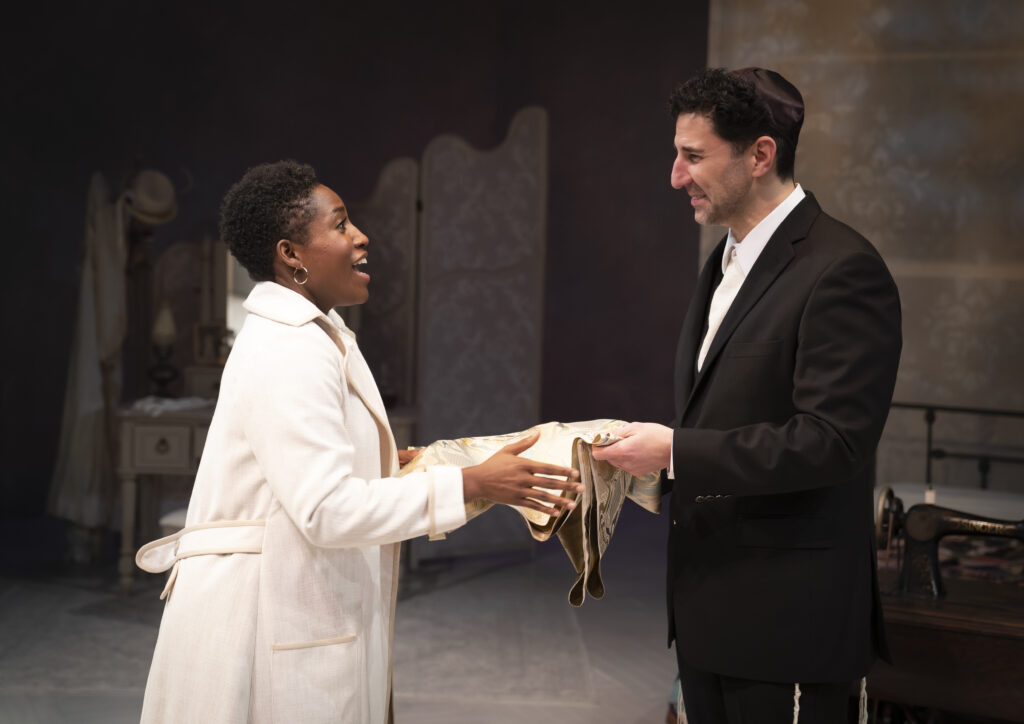 Northlight Theatre through May 15
Highly Recommended
The cast shimmers like a fine piece of silk in this lovely production of Lynn Nottage's Intimate Apparel, a play about a Black seamstress who uses her admirable skills to create a reputation and a nest egg with the beautiful lingerie she creates for wealthy Manhattan women. As Esther, Mildred Marie Langford, combines steely determination about her profession with longing for love. Her every move is graceful and beautiful to watch. She finds a soulmate in a Jewish fabric merchant, played by Sean Fortunato, who shares her love of fabric. The scenes in which they touch and talk about the fabrics are filled with the sensuality of silks and chiffons, as well as their longing for each other but race and religion prevent their match. Afraid of being a spinster, Esther seeks advice from the woman who runs her boarding house. In that role, Felicia Fields, already a force in Chicago thanks to her splendid singing and acting, doesn't have to sing a note to embody a bustling, big-hearted busybody who knows the score.
A letter from a lonely Caribbean laborer lifts Esther's spirits and the two begin a courtship by correspondence that ends in marriage. The marriage founders and Esther must face her the resulting devastation of her dreams.
At its heart this is a play about longing and loneliness, and a very personal one by Nottage, the only woman to have won the Pulitzer Prize for Drama twice. Director Tasia A. Jones brings out that loneliness and longing with her sure hand. A versatile ivory set with splashes of color highlights the sumptuous fabrics. Stunning period costumes in the same color scheme round it out, as does sensitive lighting and the effective use of black-and-white photographs.
It is a holistic production but the stars are the actors. Fortunato and Fields are well known to Chicago drama fans for decades of brilliant portrayals at many theaters. Both have shone in a wide range of roles, from tragedy to comedy. Langford has also graced Chicago stages with intensity. The only problem with this role is that she is far too beautiful for the plain woman it requires.
Spend some time with this play not only for the beauty it offers but for the emotions and dreams it explores.
Rasheeda Speaking
Shattered Globe Theatre production at Theater Wit through June 4
Recommended
Rasheeda Speaking is not an easy play to watch because of the racism, which is so hateful & automatic it sears one's soul. What makes it even harder to watch is that so little has changed since it premiered at Rivendell Theatre Ensemble in early 2013 or off Broadway two years later or for that matter since African-Americans were allowed to work with whites in offices.
Reviews of the play by the late Joel Drake Johnson have always been mixed, no doubt because racism is such a difficult subject and perhaps because there was a certain suspicion about a white man writing such a raw play about racism. Some critics said it wasn't probing enough; others that it was really about office politics rather than race. It seems to me any effort to address racism is essential. What's important now is that seen through the lens of the Black Lives Matter Movement, Rasheeda Speaking takes on new meaning. Perhaps the relevant question is was this playwright prescient or simply aware of the relentless river of racism?
Without a doubt, the production's intensity comes from Deanna Reed-Foster as Jaclyn Spaulding, the Black employee who returns after 5 days away to find herself in the middle of a plot to have her removed or transferred, which is spearheaded by the surgeon for whom she works. Reed-Foster is a force as she navigates the many sides of her character and the racism and office politics she faces. Drew Schad is perfectly slimy and manipulative as the surgeon who wants her out. As the newly minted office manager promoted to carry out the surgeon's scheme, Daria Harper nicely captures a woman caught between wanting to be ethical but being susceptible to an evil boss who plays on her weaknesses.
In Director AmBer D. Montgomery's capable hands, this production hits the right notes of rage without losing the nuances of office politics. The set, which could have stopped at functional, offers an opaque back wall, a bow to the characters' behind-the-scenes manipulations, and the not-so-subtle ways in which we try to hide what we feel and how we act.
If you want some insight into the omnipresence of racism and office politics, do see this play. If you want to better understand some of what is behind Black Lives Matter, this excellent cast will offer illumination.
On the Greenbelt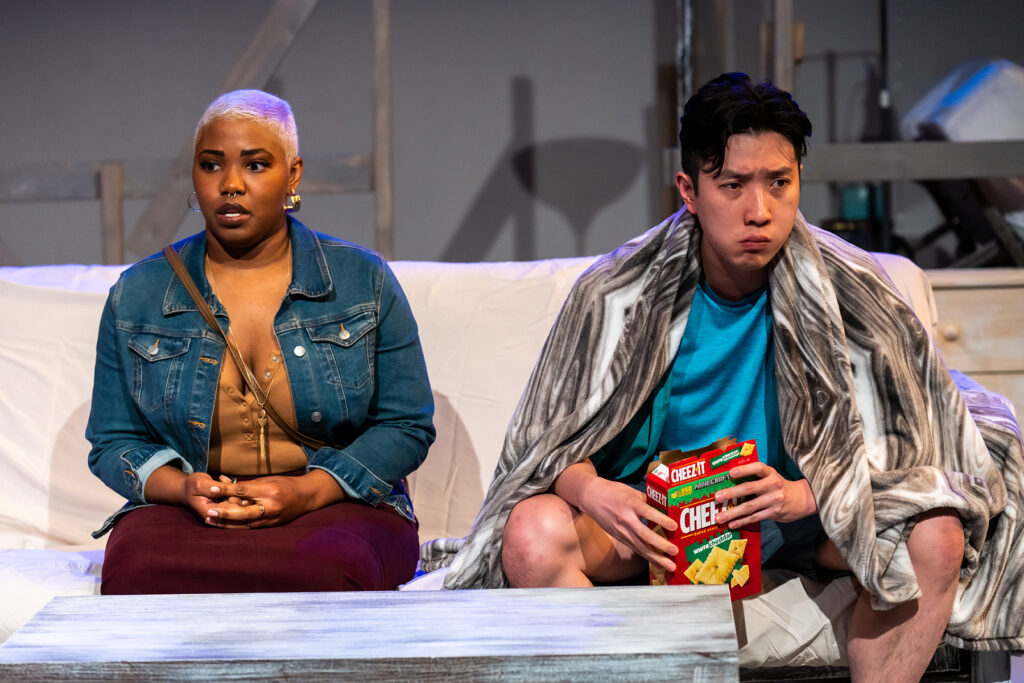 On the Greenbelt Strawdog Theatre Company Production at Links Hall through May 28
Recommended
We've learned so much about loss in this never-endemic that we can understand how the looming death of a beloved mother could unmoor us and throw our generally happy family into crisis. What is harder to deal with are the horrors and decisions someone dying and in great pain, and those who love them, have to overcome and make.
These are explored in On the Greenbelt, which centers around a daughter who seems to have already been dysfunctional but completely comes apart in this situation. Karissa Murrell Myers' play has many good qualities. Its dialog is smart and realistic and its characters are well-rounded, thoughtful and kind people with whom you want to spend time. Even with the tragedy they face, their love for one another is apparent as they navigate the painful illness and death of their spunky and devoutly Christian mother.
Director Jonathan Berry ably explores these themes of love and loss with a cast that has some real stars. Jamie Vann gives us a devoted but realistic husband with a sensitivity and sense of humor that shine through. Dan Lin plays the loving son with a lovely lowkey mix of calm, tenacity and terrific comic timing. Alexis Ward is impressive as his closeted sister's girlfriend, a no-nonsense but empathic force in this play. The problem is the daughter, who is at the center of this drama. She is hard to like even when we finally understand why she is acting out. Kathryn Acosta does her best with the always-drunk and angry Jules, whose family stands by her despite her abusive and childish nature.
Nevertheless this is a play worth seeing, not only for its smart dialog and stellar acting, but for the way it grapples with love and loss, something so many of us have or will endure. This one will give you insight, make you laugh and touch your heart.
Relentless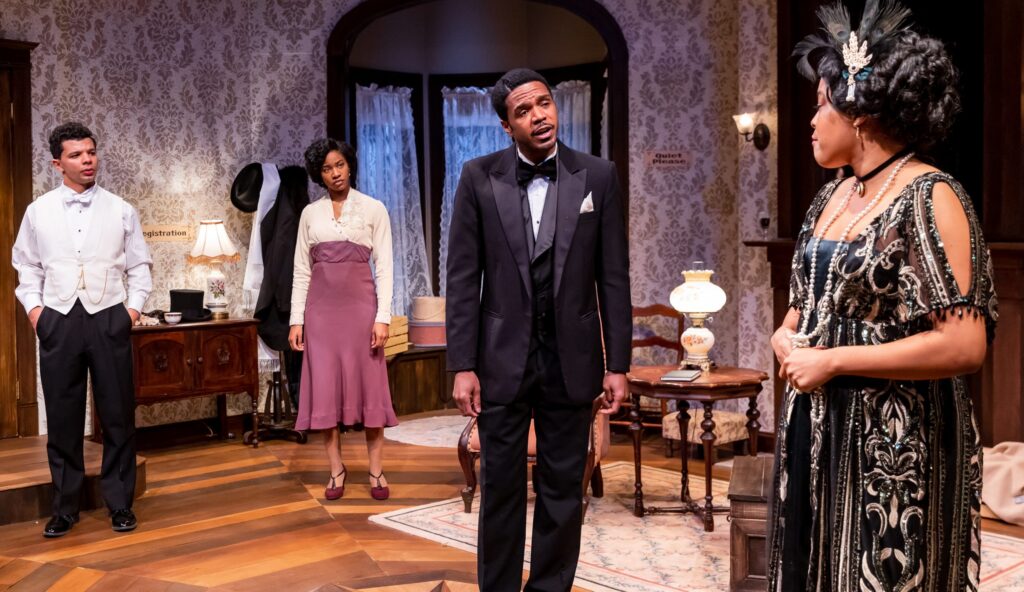 TimeLine Theatre Company Production at Goodman Theater through May 8, 2022
Highly Recommended
I have never in my life seen the same play within two months but I was so taken with Tyla Abercrumbie's Relentless that I had to see it again. It did not disappoint. In fact, it delighted me anew, and made me renew my insistence to friends that they rush out to see what I am even more certain will become a classic. I was thrilled when the Goodman Theatre decided to remount this play so quickly, and even happier to report that this production is as fine as and nearly identical to the original with the same director, actors, set and costumes. The profundity of the piece is intact. The humor continues to make one laugh out loud. The dialog still sparkles, stings and inspires. The intimacy and ideas remain. This was the first play for the gentleman who accompanied me, and his reaction was as enthusiastic as mine. All of this allows me to stand by my original rave, which is below.
There are so many marvels in Tyla Abercrumbie's Relentless, a compelling and stirring TimeLine Theatre Company world premiere, that it's hard to know how to begin the list. This is a new play about two Black sisters coming to terms with the death of their mother as they sort through her West Philadelphia home in 1919. Yet it feels completely contemporary.
Janet, perfectly played with all the right snap and righteous crackle by Jaye Ladymore, is the older sister, a nurse with no time for nonsense and a firm sense of the injustice present in the world that needs eliminating. She discovers some of her mother's diaries and is immediately drawn in to their secrets and surprises much to the dismay of her socialite sister Annelle, a layered turn by Ayanna Bria Bakari, whose focus is on fashion and socializing. As they navigate the complexities of who their mother was, and how they will survive in this time after World War I and heading into the Chicago race riots of 1919 with its relentless reminder of racism, the sisters are joined by Annelle's doctor husband, a solid turn by Travis Delgado, and the couple's progressive winemaker friend, charmingly and strongly played by Xavier Edward King. The Boston couple hope he will be Janet's intellectual and romantic match. There are three other characters, all as finely cast and played as this foursome, but to discuss them would take away some of the surprises of the play.
The dialog throughout is deep but funny, whip smart, and at a natural speed that accompanies the talk of deeply intelligent people as they grapple with gripping and troubling issues. The costumes and set are a joy to behold, rich and fulsome. Ron OJ Parson, an estimable Chicago director, has given us his hallmark exemplary work here. Another marvel is that despite its three-hour run time, the audience was completely engaged.
One more marvel: Playwright Tyla Abercrumbie is an accomplished and admired Chicago actor, both for her stage and television work. She's also known for her poetry. Full disclosure that we are friendly so I know how smart and thoughtful she is. I long ago nicknamed her "the most beautiful woman in Chicago theater." What a pleasure and privilege to discover that she is also a fine playwright with the ability to craft a piece that offers depth, humor, intelligence, despair and hope.
Despite its newness, Relentless already feels like a classic because it possesses the qualities of truly great art – genius, content, beauty, vision and the ability to transform those who experience it. This may be the best show of the year so do whatever you can to see it before it closes.
Molly Sweeney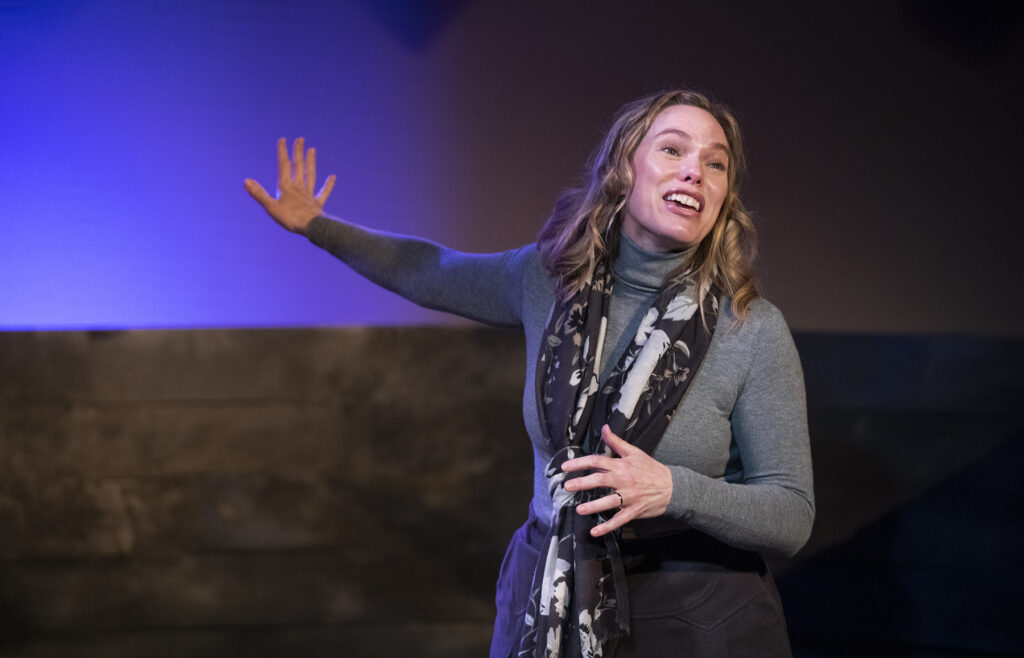 Irish Theatre of Chicago at The Chopin Studio through May 8
Recommended
This play charms from the start. Standing center stage is a beaming Molly Sweeney, recalling with affection how her father, a judge, took her around their garden when she was a child and taught her how to identify each flower and plant despite her blindness. Her joy is palpable, and it quickly becomes clear that her father's floral forays also provided his adored daughter with enviable power, independence and confidence.
So why would one want to change such an idyllic existence? The late Irish dramatic master Brian Friel explores this question in his three-character play. Interrupting Molly's peace are a tortured young man whose medical career depends on her salvation and her enthusiastic but strong-willed husband who believes that restoring her sight will make her happier. The operations to make her see do not turn out that way, and Friel's prods us to ask all sorts of questions about the choices made. Is it better to stay in the world of joy one has created or risk trying a different world? Should anyone allow others to make such a major decision for them? The gender issues here are hard to miss. Molly is comfortable in her blind body but is talked into an operation to restore her sight by two men who don't get along and have each faced professional failures. In a series of alternating monologues Carolyn Kruse conveys Molly's joys and regrets with winning depth. Matthew Isler is her eager husband, who makes us understand that this operation might just be the one plan of his that works out. Robert Kauzlaric is persuasive as the doctor who jumps at the chance to fulfill his promising career after some setbacks.
Engage with the exploration of moral and medical dilemmas in the lovely language of Brian Friel. This one stands with the other well-done Irish dramas that this company has brought to Chicago.
Spay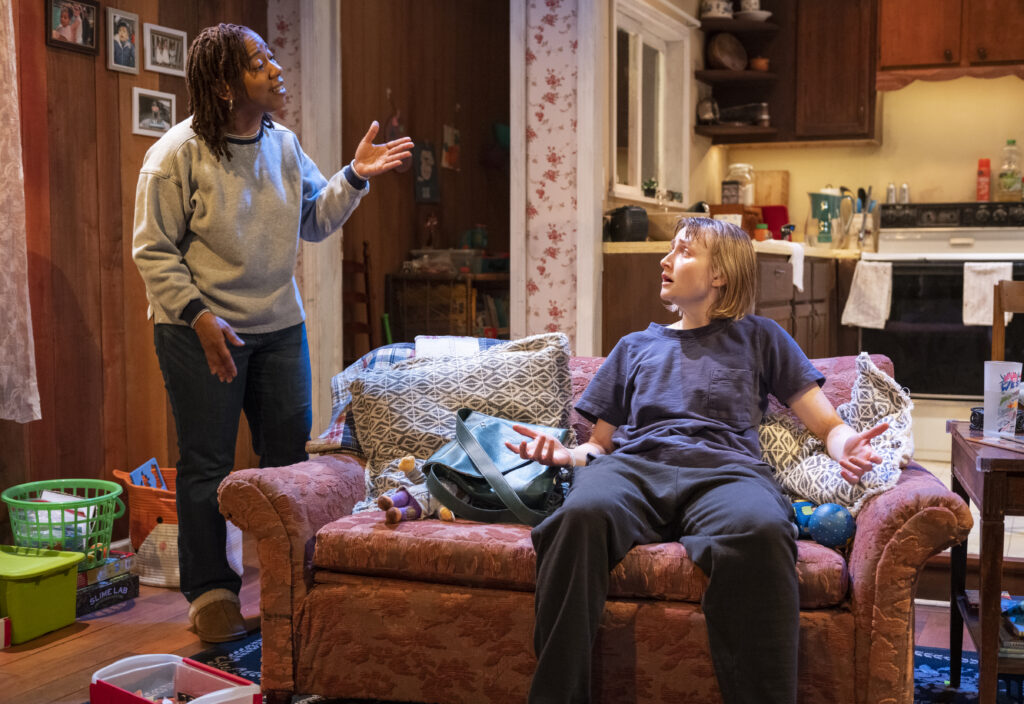 Rivendell Theatre Ensemble through May 1
https://www.rivendelltheatre.org/
Highly Recommended
Spay, a stunner now in a world premiere at Rivendell Theatre Ensemble, offers a raw but real portrait of the opioid epidemic in a mere 90 minutes. This gripping play by Madison Fiedler, a North Carolina native and recent graduate of Northwestern University, takes on addiction in a way that will grab your the heart while it kicks your stereotypes out the door. The result is that what could have been an unbearable searing story is transformed into an illuminating tale of insight into how addition happens and what it does to addicts and those who love them.
Set in a small Virginia town, Spay takes us into the home of two sisters whose mother's overdose sends them in very different directions. Rae Gray, known for her ability to bring life to complex roles, is Noah, a heroin addict who has lost custody of her child to her older sister. That together sister Harper is played with toughness and grace by Krystel NcNeil, who has now taken in her younger sister and is demanding she kick her addition. The sisters love each other but Harper is no longer willing to be trapped and torn apart by Noah's addiction nor will she let it hurt her nephew not in her custody but she is cleareyed about the difficulty of Noah's obstacles. Spencer Huffman is Noah's handsome boyfriend, a dealer who truly loves and values her. The scenes between them are some of the sweetest in the play and ones that defy the dysfunctional way in which love lives of addicts and dealers are often portrayed. Tara Mallen, a pleasure in any role and Rivendell's artistic director, is the well-meaning do-gooder from an organization that offers a heartbreaking solution.
Director Georgette Verdin brings the perfect touch to this compelling new play with a fine cast so that we never sink into despair. Rather we are drawn into the loves of these complex characters and forced to confront our own understanding of addiction.
If you are trying to understand the opioid epidemic or just want to welcome a promising young playwright whose work is being interpreted by a fine dramatic corps, this is a play you should not miss. Like all good art, it will grab you and make you think.
Once Upon a Mattress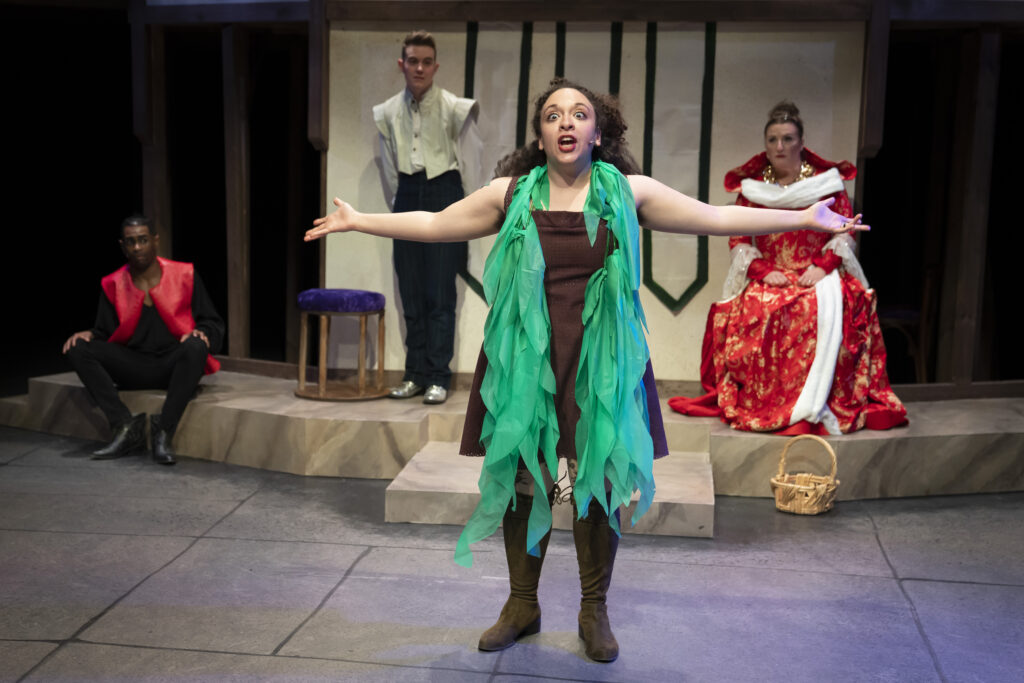 Theo Ubique Cabaret Theatre through May 1
Highly Recommended
What a delight: An up-to-the minute adaptation of Hans Christian Andersen's 1835 "The Princess and the Pea" is currently amusing audiences at Theo Ubique. The talent at Theo Ubique brings its usual excellent singing to the 1958 proto- feminist and fairly adult musical Once Upon a Mattress, and transports it into this century with a gender-blind cast.
Standouts are Anne Sheridan Smith as Queen Aggravain, the pretentious and overbearing mother who puts many princesses through impossible tests to win the hand of her son Prince Dauntless. Her subjects are unhappily prevented from marrying until the prince is wed. This evil queen meets her match in Princess Winnifred the Woebegone, played with strength and heart by Sonia Goldberg. The perfect outlier, she makes the most of a moat-swimming princess of the marshes who just happens to be a fine singer. Everyone in the cast has their moment of great fun under the direction of Landree Fleming but, most of all, the fun they have is infectious. The classic fairytale elegance of the costumes is punctuated with some witty modern touches. The live music by Director Jeremy Ramey and his team of talented musicians adds much to the charming and sometimes wacky songs, as well as the lovely voices.
Enjoy an evening of silliness that will lift your spirits and hit the right notes musically and politically, even as you laugh with this show.
Good Night, Oscar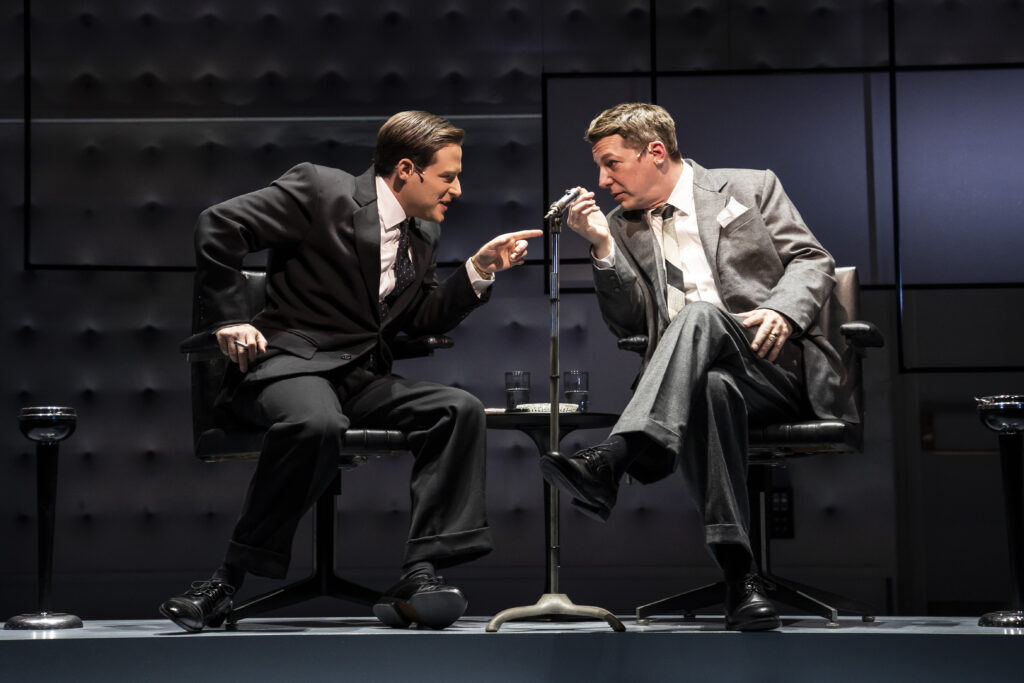 Goodman Theatre through April 24
https://www.goodmantheatre.org/Oscar
Highly Recommended
Good Night Oscar is a 90-minute trip – and I mean that in every sense of the word – through the romanticized days of early television that is packed with excellent one-liners that get one musing about such issues what television could have been, the American obsession with grotesques, the battle between art and capitalism, mental illness, drug addition, the cruel edge of humor and virtuosity.
It is the tale of a four-hour pass that gets the multi-talented but bitter Oscar Levant, an American concert pianist, composer, music conductor, author, radio game show panelist, television talk show host, comedian and actor, onto the set of TV talk show Host Jack Paar, the second host of The Tonight Show. In some sense everyone behaves according to plan but that plan has much pain despite the fast-flying jokes.
The media spotlight has been on Sean Hayes, an Emmy-Award-winning actor, host and producer, and with good reason. He nails Levant, capturing his brilliance and mental struggles. He even plays the piano beautifully. But others deserve equal credit. Emily Bergl is a perfect June, Oscar's beautiful, tough and devoted wife, who gets it on so many levels and arranges the pass to put him in the spotlight. Alvin Finney is the elegant medical student who is tricked into this plan and holds the moral ground in the show while blasting away some nasty stereotypes about race and class. Ben Rappaport is Paar, a man is comfortable on both sides of the matters at hand, slickly moving from defending art and ideas while making fun of California naivete to advancing his career on the backs of less calculating personalities. Peter Grosz is the perfect mix of corporate timidity and nerdy slime as David Sarnoff, a king-maker of early television. John Zdrojeski is an elegant George Gershwin, who is Levant's mentor, ideal and source of inadequacy. Ethan Slater is the starry-eyed assistant, eager but unknowing enough to let celebrity blind him into real trouble.
None of this would be possible without the brilliant script by Doug Wright. His I Am My Own Wife took the world by storm, and found its place as a star in Chicago's dramatic universe. Director Lisa Peterson brings a sure touch and an equally impressive pedigree. She wrote An Iliad, another Chicago star that shone in multiple productions at Court Theatre and the Oriental Institute. Together, with this fine cast, they guide this play to the higher ground so it never slips into the mediocrity that marks so much of television. Rather this one delves deep and keeps us laughing and thinking. Take the time to see one of the best talk shows around.
Laced
About Face Theatre at The Den Theatre through April 16
Recommended
What starts with a tragic, violent event becomes an ode to survival and friendship. Three bartenders arrive at their popular queer bar to discover it has been vandalized. Standing the midst of the trash and graffiti, they are there for each other as they try to figure out how this happened and who is responsible. Mariah Copeland, Aida Delaz and Collin Quinn Rice are ideal as the three work friends who are there for each other despite their different personalities. Individually and collectively, they keep the story moving through past and present. Playwright Sam Mueller's piece alternates between flashbacks that offer background, scenes of mourning for what has been lost and the power of recognizing the need to move on. Director Lexi Saunders deftly manages these transitions. The behind-the-bar scenes, including choreographed dance the bartenders do in the happy chaos when the bar is busy are particularly delightful, as are the moments of commentary and gossip about patrons.
What really stays with one though is the bond of friendship that is clear from the start and grows stronger as the trio comes to terms with what happened and finds a way to move beyond it. This play could have easily become preachy or platitudinous about the horrors of such acts of violence and the need for community and support but it does not thanks to a fine artistic team that includes the actors, director, playwright, set designer and technical crew.
The result is a play that tells us about the horrors of the violence we face but also offers us the hope of friendship, strength and community. It is the tonic we all need now.
King James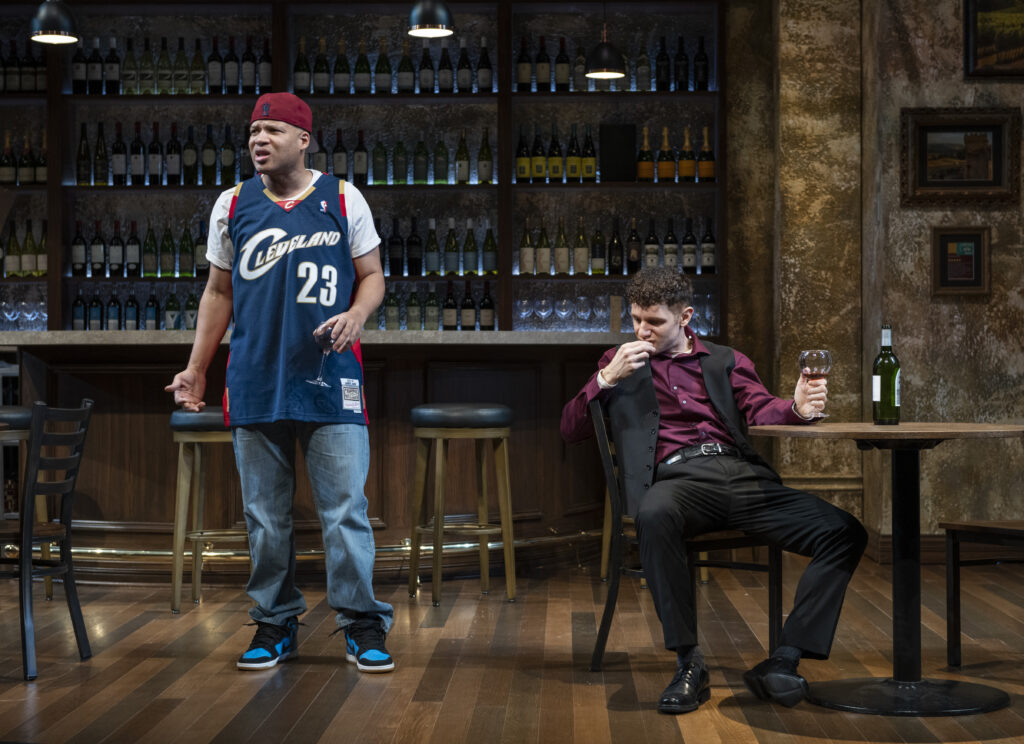 Steppenwolf Theatre through April 10
https://www.steppenwolf.org/tickets–events/seasons/2021-22/king-james/
Highly Recommended
Award-winning Playwright Rajiv Joseph engages even the most diehard sports haters with his charming play about a friendship between two fiercely intelligent and devoted fans of "King" LeBron James. Their mutual admiration for this basketball star from Akron, Ohio is the connector for these two Clevelanders, a quirky white businessman and a Black short story writer. Their banter is a delight to behold as it jumps from their love of LeBron to their hopes, fears and dreams to nearly everything about their lives in our troubled world. Count it a Midwestern pleasure to witness the Cleveland pride that runs through this story, revealing Joseph's affection for his roots.
Glenn Davis, Steppenwolf's co-artistic director, and Chris Perfetti tackle their roles as the dueling duo that bounces between fandom, easy friendship and fury with a gusto that still allows them to inhabit their characters in natural and believable ways. Director Kenny Leon makes sure that the snappy dialog never dips into that smart sitcom space but stays in a higher universe where the mundane can be appreciated and laughed about even when the profound is at play. Todd Rosenthal's turning set – one side is a hip formula wine bar, the other a knick-knack store that has to be any collector's fantasy – returns spectacle to Steppenwolf's stage.
The tone is set by the irresistible Khloe Janel, who DJs from a balcony. Watching their joyous smile deepen as they bop along to Marvin Gaye's rendition of the national anthem at the 1983 NBA All-Star Game sets a tone of such calm joy as the audience settles in that you know you are in for a great game. Whether you are a sports fan or not, make sure you get courtside seats for this show. It will delight you while you're watching the moves and stay with you once you've left the arena.
The Lady from the Sea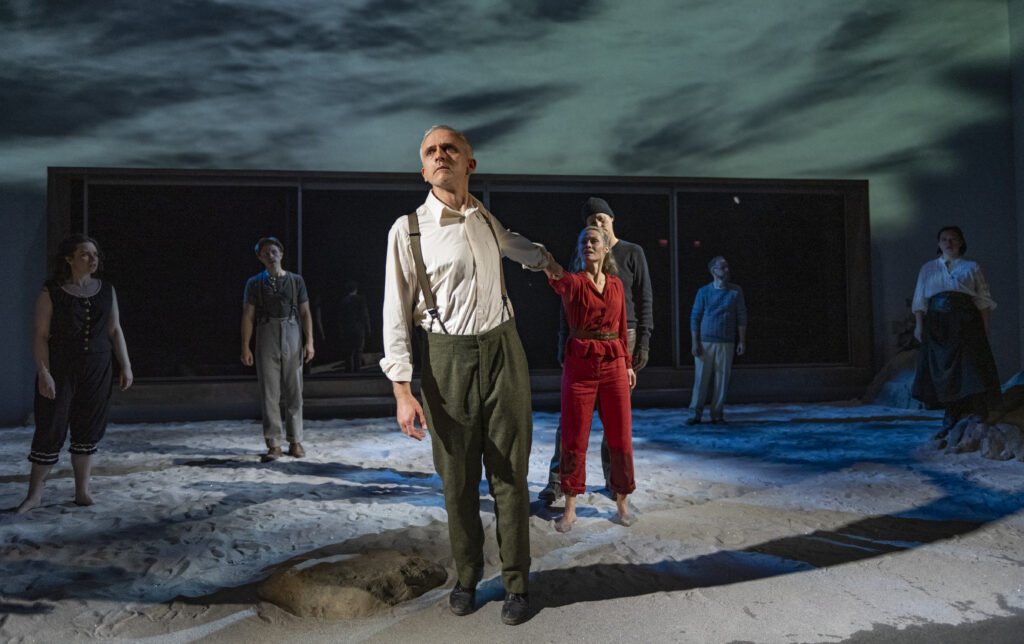 Court Theatre through March 27
Recommended
Though it may be unfamiliar to Chicago audiences, The Lady from the Sea has captured the interest of creative spirits for some time, among them Vanessa Redgrave and Charlie Chaplin. She starred in a 1973 production. He started but never finished a film about Henrik Ibsen's 1888 play.
There is a certain trepidation about seeing a rarely produced play by a famous playwright. One wonders if the rarity is because it is simply bad. Fortunately, that is not the case with Court Theatre's production, which opened after a two-year pandemic delay that resulted in the commission of a lovely new translation by playwright Richard Nelson. The stellar cast delights in its natural ease with the roles, and the result is a charming cocktail. Imagine taking your Ibsen mixed with Anton Chekov and a splash of Ingmar Bergman, delivered with the comedic chips of Chekovian ice it requires. These actors pull it off, and manage the more emotionally fraught moments as well. From the first scene, the painter played by Dexter Zollicoffer, sets the tone. The Wangel family – Gregory Linington as the doctor father, Tanya Thai McBride and Angela Morris as his daughters, and Chaon Cross as his wife, also known as The Lady from the Sea – are at the center of the drama but it is Cross who is the focus as she struggles with her freedom and her passion. What she wants is the ability to determine her own life.
Indeed the question of what women want and what they should be runs throughout this piece, as each female ponders her fate while correcting clueless males. Will Mobley, as the educated former tutor, and Samuel Taylor, as the dying artist, offer comic foils incapable of insight. Kelli Simpkins is menacing as the former lover, representing the tempestuous sea, come back to claim her lady.
The set and the costumes have elements of bleak modernism and Victorian curves. The Lady from the Sea is in rich colors and often pants while the daughters vacillate between traditional garb that later include daring but still proper pants. Water is fittingly present through, behind the sliding panel and creeping onstage in the play's second half so that all to be in the sea at some point. What is less effective is director Shana Cooper's dance choreography. We already understand the dynamics and tensions between characters so these breakaway moments pull us out of the play without adding new insights.
At the end of the opening, a woman in front of me told her companion that Ibsen kept writing the same play. There is some truth in that though this play has a happier ending than the slammed door in A Doll's House. Then again, although we've come a long way, women still too often lack true freedom of choice let alone genuine equality. For that reason alone, this Ibsen cocktail is worth drinking, perhaps even again and again. Besides how often do you get to see an Ibsen play with a happy ending?
Solaris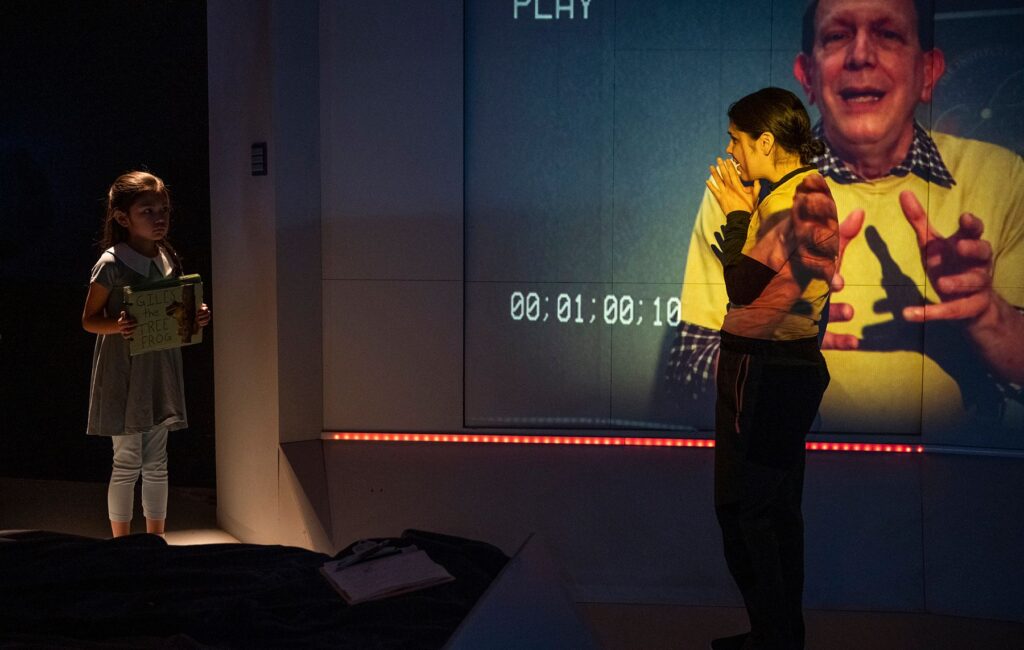 Griffin Theatre Company at Raven Theater through March 27, 2022
Recommended
Polish Writer Stanislav Lem's Solaris has been interpreted in many ways. The author said two films did not like because they did not capture his novel's exploration of the limits of human rationality. How fitting that Griffin Theatre's return to the stage is to remain true to Solaris' literary roots with an adaptation that is fitting for our times.
Without giving too much away, this is the story of a scientist trained in psychology arriving at a remote space station where three other scientists, one of them her teacher, are studying the distant ocean planet of Solaris. They have been cut off for some time and there are many surprises in store for their visiting colleague. At its center, this is the tale of the conflict between head and heart, of how scientists wrestle with their emotions when they infringe on their professional lives.
If you are a fan of the plays by Scottish Playwright David Greig, you'll appreciate his return to Chicago with this adaptation of Lem's 1961 novel. The directing by Griffin ensemble member Scott Weinstein, whose award-winning reimagining of Ragtime remains with me, saves the show from seeming much too talky. The set for this sci-fi drama is spectacular in its minimalism with its stark, high-tech angles and sliding panels.
On opening night, it took a few minutes for the actors to fully inhabit their characters in a way that made us forget we were watching a play. When that happened it was an engrossing experience with lots of ideas and ethical dilemmas floating through our dramatic galaxy, accompanied by enough passion to keep it human. The corps of young scientists, played by Isa Arciniegas, Nicole Laurenzi and TJ Thomas, bring a human touch to their intellectual and ethical positions. John Drea is passionately present as the perplexed lover. Alexandrya Salazar is a vision as a beautiful otherworldly child from her first appearance holding a perfect orange. Although his presence is virtual – how appropriate for our current Zoom existence – Larry Baldacci, as the lead and senior scientist Gibarian, steals the show. His words are the first image of the play, setting us up for his obsession with finding out about the distant planet. But it is the line from his diary that strikes at the story's – and our – core: "We are human, this is the problem."
Embrace your human and intellectual self and see this show that explores loneliness and loss as it limns the border between our work and our personal lives.
Blues in the Night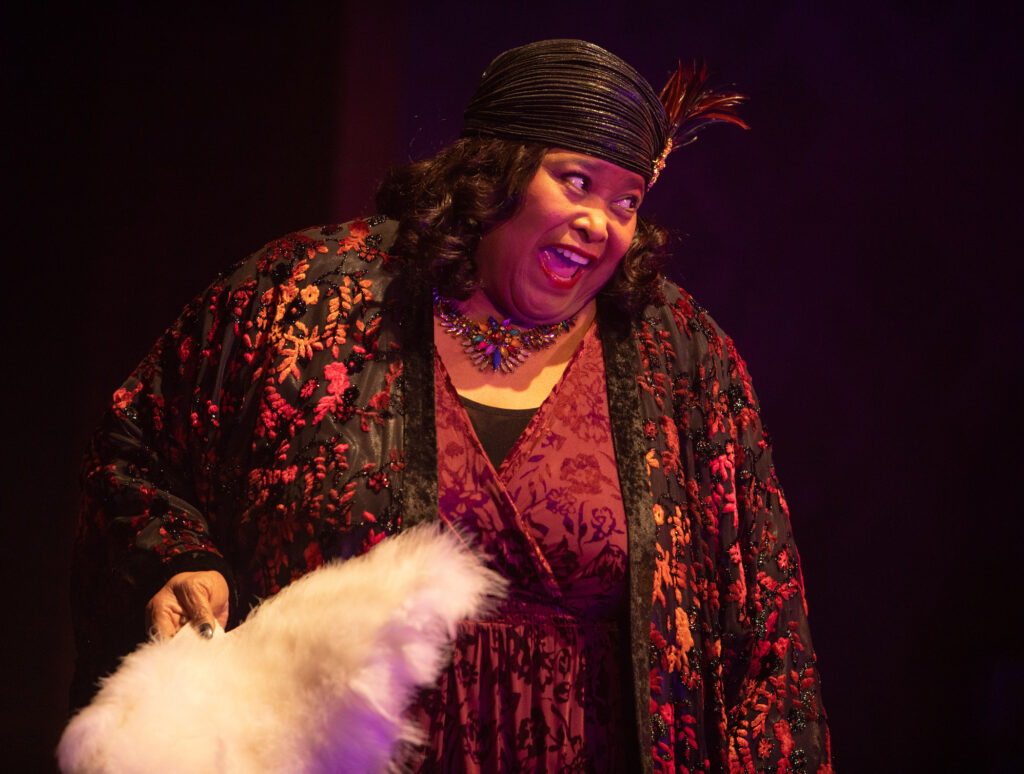 Music Porchlight Theater at the Ruth Page Center for the Arts through March 20, 2022
Highly Recommended
Felicia Field's face alone is worth the price of admission to Blues in the Night, whether she is fixing her stare on someone in the audience or glancing over her shoulder with a wicked smile or simply lifting an eyebrow. And it goes without saying that her legendary singing is a joy to hear, especially when it's accompanied by her delightful and often humorous acting. Not that anyone else in this fine cast is a slouch. Donica Lynn, Clare Kennedy and Evan Tyrone Martin all belt it out beautifully, and with some charming and passionate acting. Terrell Armstrong is a dancing force who supplements the songs with grace and beauty. The band, led by Maulty Jewell IV, offers excellent accompaniment, and an occasional foil to Fields, though sometimes the musicians need to take it down a notch so as not to drown out the singers.
This musical revue, set in 1938 in a South-side Chicago hotel, takes us back to the birthplace of the Blues by weaving together the stories of these four singers. Ironically the show offers as much joy as it does sorrow, and that's a good thing because we all need some happiness these days. Blues in the Night features classics like "Stomping at the Savoy," "Taking a Chance on Love" and "Nobody Knows You." Of course, in the spirit of Blues great Bessie Smith, some of the best numbers are the wicked ones. Fields nearly steals the show with her naughty "Take Me for a Buggy Ride." The female trio, with its age and experience range, works especially well in saucy songs.
Your spirits will be lifted by this exuberant show that brings Porchlight Musical Theatre back to the stage.
When There Are Nine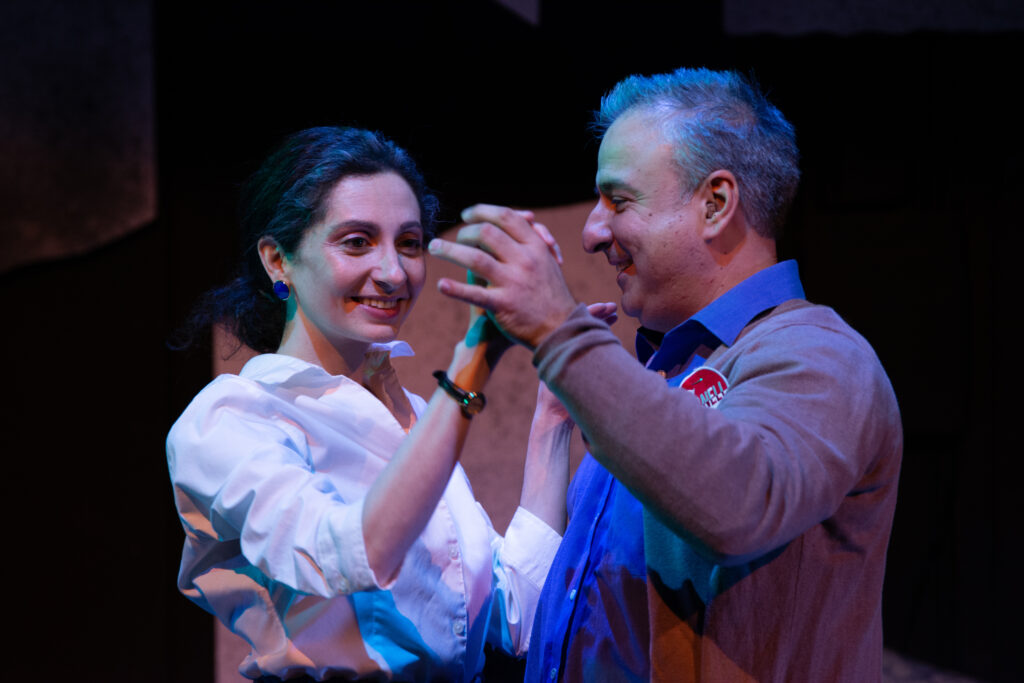 Pride Arts Center through March 13, 2022
Recommended
If you seek a sense of the human side of the Notorious RBG, and how the late Supreme Court Justice was able to blend her warm, rich personal life with her political commitments, this is your show. Talia Langman expertly captures Ruth Bader Ginsburg at all ages, even her stooped but indomitable posture later in her life. She also passionately conveys Bader Ginsburg's dedication to gender equality and her fierce Feminism. Equally impressive is Gabe Estrada as Martin Ginsburg, her devoted spouse, partner and supporter who happens to be a great cook. What a pleasure it is to see such an equal and loving partnership, one that seems the classic version of the marriage of Vice President Kamala Harris and Second Gentleman Douglas Emhoff. Langman and Estrada show the depth and joy in such a union, and Estrada emanates pride in his wife without ever seeming false or weak. Another star is Nicholia Q. Aguirre as the substitute caregiver for the day. She turns out to be the dream caregiver, full of warmth and profundity, delivered with calm and kindness by Aguirre. This trio is supported by seven female actors who inhabit a range of characters from mothers to protesters to card-playing Supreme Court colleagues. They admirably provide some of the lighter moments amid the serious issues being addressed here.
Sally Deering's play is engaging, and Director Sam Hess keeps it from veering into soapbox or soap opera. On opening night, there were a few moments when the acting was not quite up to snuff but that is bound to improve. If you're feeling blue and need a tonic for these times or a reminder that there are smart, loving people fighting for women's rights and equality, this play is your pick-me-up. If you are an RBG fan, you won't want to miss it.
Fireflies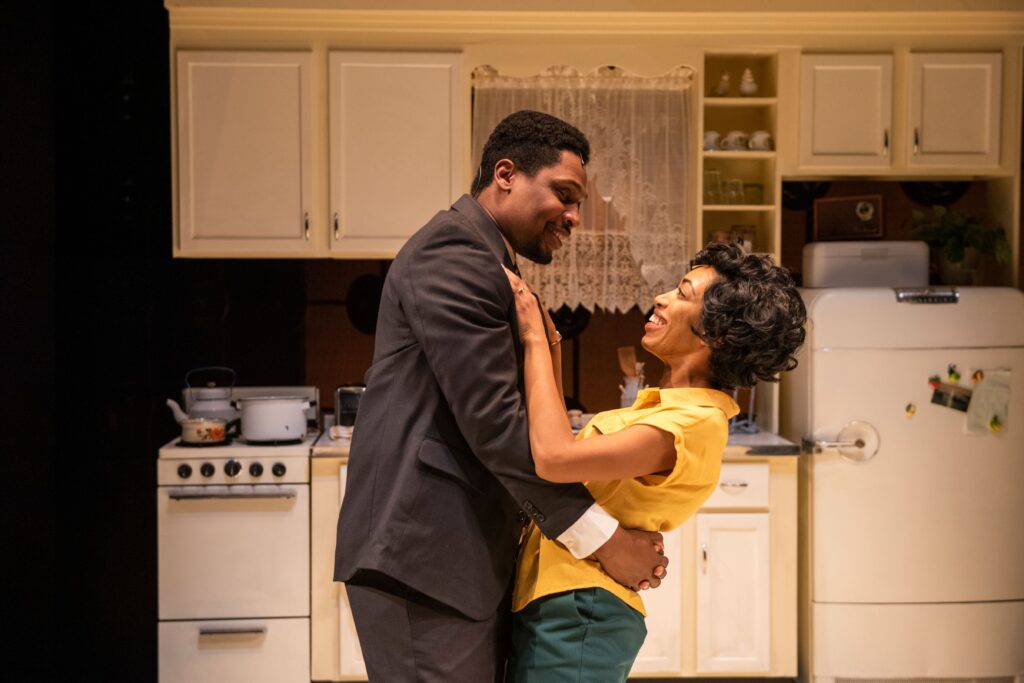 Northlight Theatre through February 20, 2022
Recommended
The ferocity of the acting in Donja J. Love's Fireflies at Northlight Theatre is a tragically perfect match with the early days of the Civil Rights Movement. It is almost impossible to take your eyes off Chanell Bell and Al'Jaleel McGhee as they offer audiences the welcome complexity of two people who sometimes love each other despite serious moral shortcomings. This intimate and intense two-person drama, performed to the drumbeat of racism with undercurrents of sexism and homophobia, is bursting with the intriguing ambiguities and moral questions all too familiar to those who lived through these times. The playwright, actors and director beautifully explore the painful and sometimes unbearable balancing act that anyone with brains and a heart experienced as they veered between the hope of the Civil Rights Movement and the despair of the reality of racism. The set is exquisite with its backdrop that starts with the fire of the 1963 Birmingham's 16th Street Baptist Church bombing that killed four little girls, and moves through other acts of violence before offering a transformative hope. Two critiques: The ending needs a bit of trimming and the play is such a fine mix of intimacy, despair, rage, joy and hope expressed by two fine actors that the microphones and auditorium voices are not necessary to convey all that is offered here.
Mr. Dickens' Hat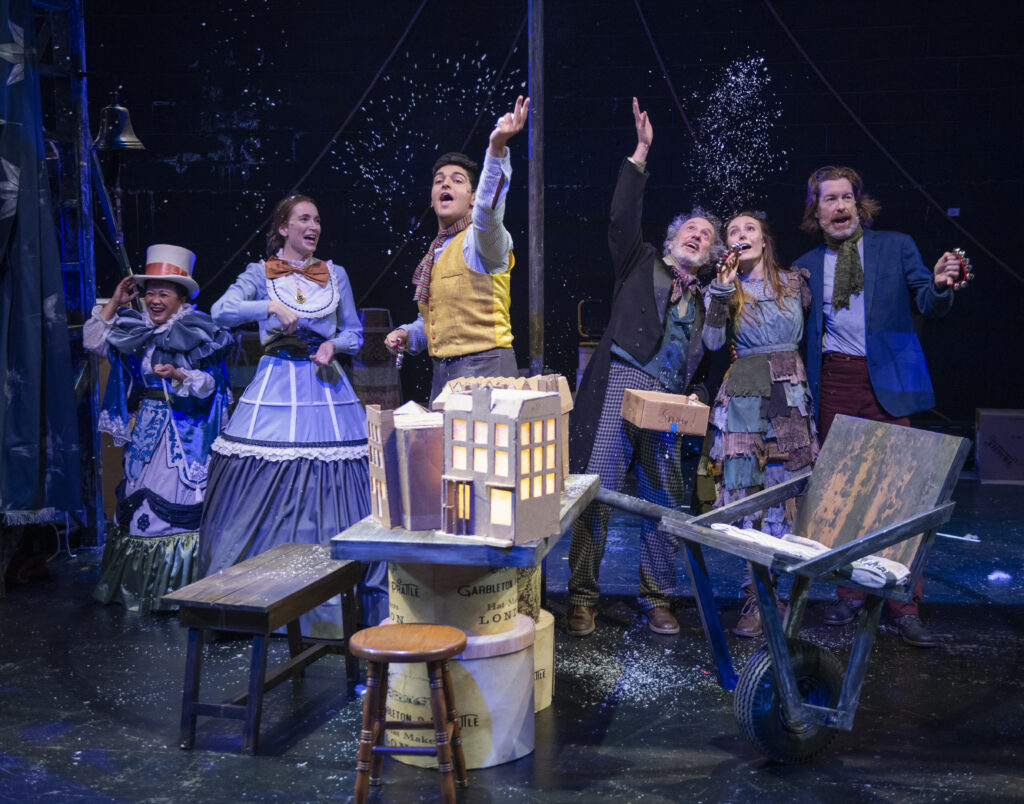 Northlight Theatre through January 2, 2022
Transport yourself back to the time of Charles Dickens without having to see another version of A Christmas Carol. The delights of Mr. Dickens' Hat are abundant in Michael Hollinger's new play with music. The story of a hat shop filled with characters who could have sprung from the pages of Dickens takes its inspiration from a tragic train wreck in which Dickens used his hat to give water to those dying around him. That hat holds a place of honor in this play as the beacon of a Victorian hat shop. Thieves plot to steal and sell the hat, only to be thwarted by two young people, both devoted fans of the author. The charm of the tale is its mix of Dickensian characters, complications and hard times – pun intended – with modern asides and delicious comedy. Six actors handle multiple roles expertly under the imaginative direction of David Caitlin. It's a pleasure to see veteran actor Nick Sandys back on stage in such a fine corps of talented performers but the one who elicits great laughter with his deft physical comedy is Mark David Kaplan as the absent-minded hat store owner and the bumbling criminal accomplice. For those of us who reached our lifetime quota of Christmas Carol after decades delighting in the wonders of the Goodman Theatre's version from childhood through parental escorting, this is a welcome respite.
Love Actually? The Unauthorized Musical Parody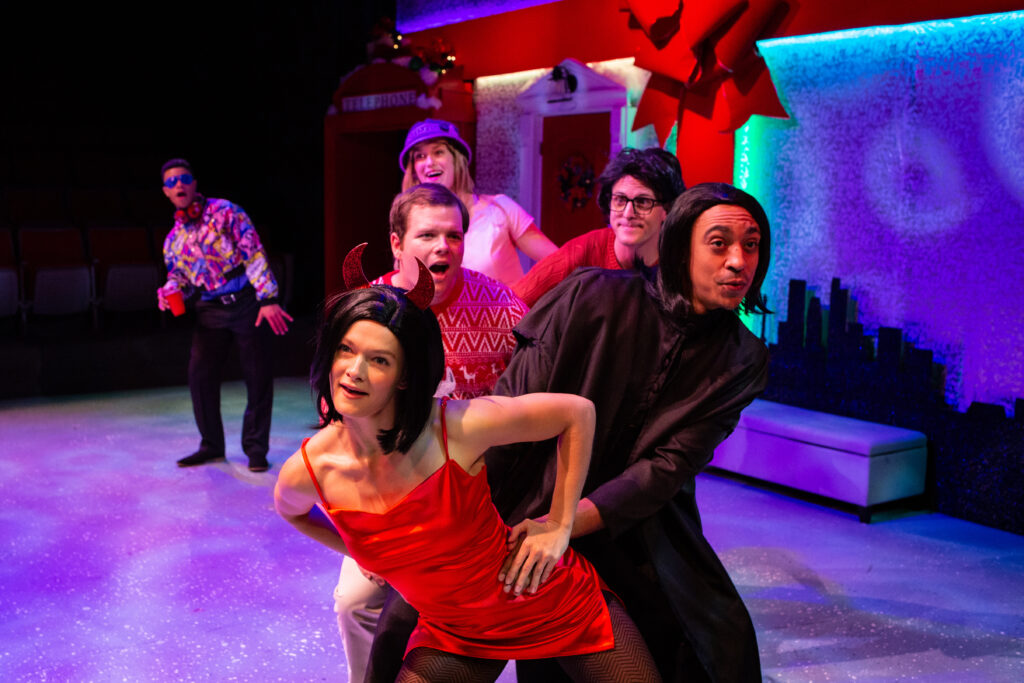 Right Angle Entertainment at the Apollo Theater through January 2, 2022
Even if you loved the movie, as my family and friends did, you will have a hard time not laughing as this energetic, antic and talented cast of six tears through their 85-minute send-up, playing more than 50 roles, changing costumes 144 times and managing 42 flips of some decidedly unattractive and ill-fitting wigs. It is breathless wicked fun. Particularly amusing is the way cast members call each other by the names of the actors who starred in the Love Actually movie. Then there are the send-ups of some of the famous scenes from Keira Knightley with her irritating teeth prominently displayed to full frozen advantage to Harry Potter's Snape as Emma Thompson's philandering spousal unit to a cross-dressing Joni Mitchell. What keeps this show from sagging or getting stupidly silly is the smart script, snappy directing, spectacular cast so good that it would be unfair to single out anyone, riotous wigs and costumes. Even if you didn't actually love the 2003 movie you will likely enjoy this send-up. Get in the spirit of season by howling with laughter at this holiday hoopla.
Irving Berlin's Holiday Inn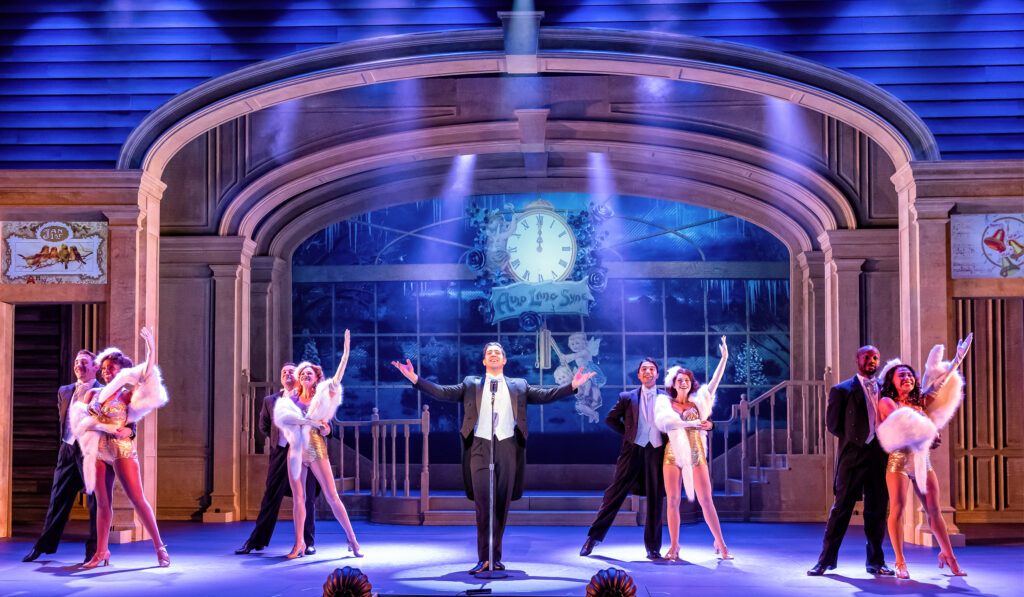 Drury Lane Theatre through January 9, 2022
Delight in songs of one of the shining stars of Tin Pan Alley with this lovely production of Irving Berlin's Holiday Inn that gives new energy to the classic film. It's hard not to sing along to Berlin's brilliant tunes but the pipes and tap-dancing skills of this stellar cast will have you so absorbed that you can spare your seatmates. The iconic "White Christmas" aside, this show is full of classics Berlin created for other holidays so you get a full musical calendar with hits like "Stepping Out with My Baby," "It's a Lovely Day Today," "Heat Wave," "Shaking the Blues Away," "Cheek to Cheek," "Easter Parade" and more. Each song shines thanks to pitch-perfect directing and choreography by Matt Crowle. The talents of musical theater favorites Adrian Aguilar and Erica Stephan animate this love story about retired hoofers trying to start a theater in a Connecticut farmhouse. Another standout is Danielle Davis, who steals the show as the no-nonsense handywoman whose singing is as powerful as her quips are hilarious. This is a performance that will leave you singing and dancing your way home as you revel in the panoply of American holidays.