I am not a theater critic but I have been devoted to covering theater since my early 1980s reports on the explosion of Chicago storefront theaters for National Public radio. On The Mara Tapp Show in the 1990s, I was honored to host weekly for conversations about and offer scenes from some of Chicago's best shows, and delighted when those interviews filled houses for our local theaters.
In 2015, at the request of friends, I started a series of emails with recommendations for shows I thought worthy of patrons. Some years later, actors, directors and publicity people in Chicago's theater world prevailed on me to share these raves, a request I accepted, especially in light of the increasing tensions in the theater world and need to keep Chicago theaters healthy. Read more…
Find out what the critics think at the Review Round-up on the website of TheatreInChicago.com.
Raves
Cat's Cradle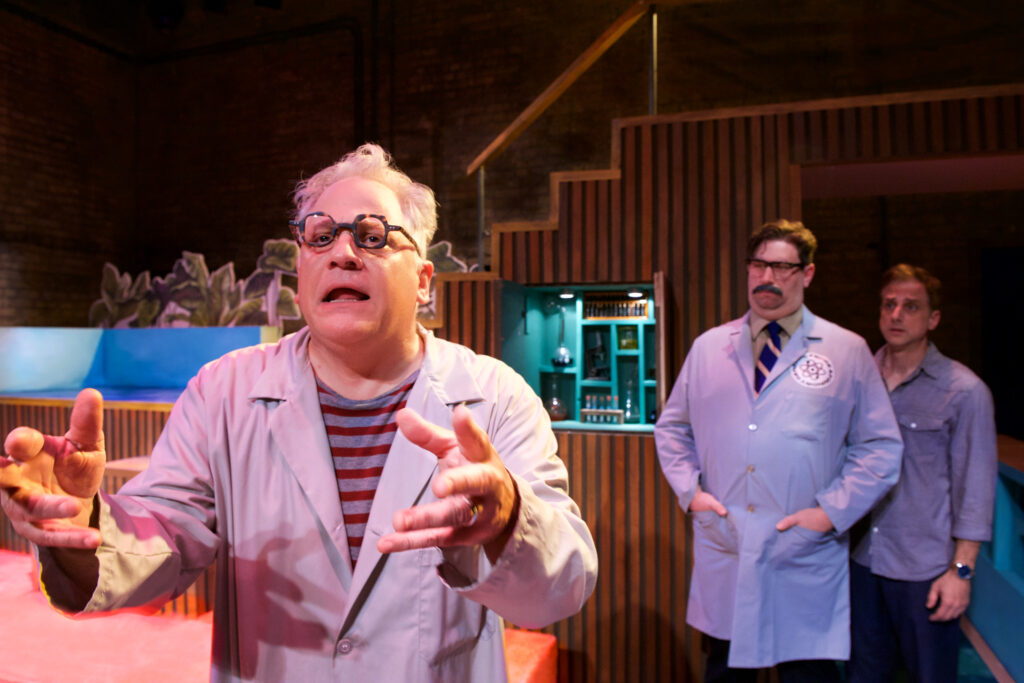 Lifeline Theatre through October 22
Highly Recommended
Lifeline Theatre's wacky, laugh-out-loud adaptation of Kurt Vonnegut's iconic novel captures its essence, navigating the supreme horrors and ironies of World War II as well as the fears and idiocies of the post-war era, a time when so many of us were unable to disconnect from the staggering reality of nuclear warfare. It's a sober subject, an angst that remains for families that were forever altered by that war and its aftermath. And yet John Hildreth's spot-on adaptation deftly honors Vonnegut's hallmark mix of humor and horror, parody and tragedy, sarcasm and profound human connections. It's almost as if he and the large cast that bursts with talent under the able direction of Heather Currie have grabbed a line from Cat's Cradle – "Eat, drink, and be merry, for tomorrow we die." – as their leitmotif and let it animate each moment of this play.
Everyone on stage struts their dramatic stuff, reminding us of what this theater company can do when it is at its best. That includes employing artists who can adapt literature, as well as direct and act in those adaptations. Lifeline Artistic Ensemble members Currie, Patrick Blashill and Anthony Kayer, playing two of the most amusing scientists ever to grace a stage, are joined by Lifeline regulars Shelby Lynn Bias, Shea Lee and Mandy Walsh. Newcomers Tony Bozzuto, the journalist/narrator who easily goes from dopey to intense, Vic Kuligoski, Jocelyn Maher and Johnard Washington, as the charismatic cult leader, steal many scenes. The cast uniformly shimmers with energy and wit, easily morphing between multiple roles. The actors' zeal is enhanced by pitch-perfect costumes that embrace the spirit of this show and of Vonnegut's sardonic humor. It's almost as if Aly Amidei employed "whimsy" and humor as mantras in her sartorial selection process.
Don't miss this delightful but deep kickoff of Lifeline's & Chicago's Fall season. You don't have to be a Vonnegut fan to enjoy this one but it may inspire you to read Cat's Cradle again. I promise you'll laugh and cry at the stage and page versions of his classic story.