I am not a theater critic but I have been devoted to covering theater since my early 1980s reports on the explosion of Chicago storefront theaters for National Public radio. On The Mara Tapp Show in the 1990s, I was honored to host weekly for conversations about and offer scenes from some of Chicago's best shows, and delighted when those interviews filled houses for our local theaters.
In 2015, at the request of friends, I started a series of emails with recommendations for shows I thought worthy of patrons. Some years later, actors, directors and publicity people in Chicago's theater world prevailed on me to share these raves, a request I accepted, especially in light of the increasing tensions in the theater world and need to keep Chicago theaters healthy. Read more…
Find out what the critics think at the Review Round-up on the website of TheatreInChicago.com.
Breaking News!
The League of Chicago Theaters has released its 2023 Holiday Guide and you can find it at https://chicagoplays.com/chicago-theatre-guide/. Get updates on plays at https://chicagoplays.com/. Even better, see a show with Hot Tix new Half-Price Holidays. From November 24 – December 3, half-price tickets will be available for select holiday productions, including Chicago Children's Theatre, Court Theatre, Goodman Theatre, Oil Lamp Theater and more. Get dramatic for the holidays and give the gift of an evening at the theater while you give Chicago theaters the gift of your support!
Get a kick out of The Cole Porter Festival – A Celebration of the Man and his Music, which launches Porchlight Music Theatre's 29th season. The company will start 2024 with a 90th Anniversary production of Anything Goes featuring the Chicago debut of a newly commissioned 2022 libretto. You don't have to wait that long because you can start celebrating Cole Porter on October 16th. Get details on the programs being offered, the broadcasts on Porchlight's YouTube channel and more at https://porchlightmusictheatre.org/the-cole-porter-festival/
Raves
Witch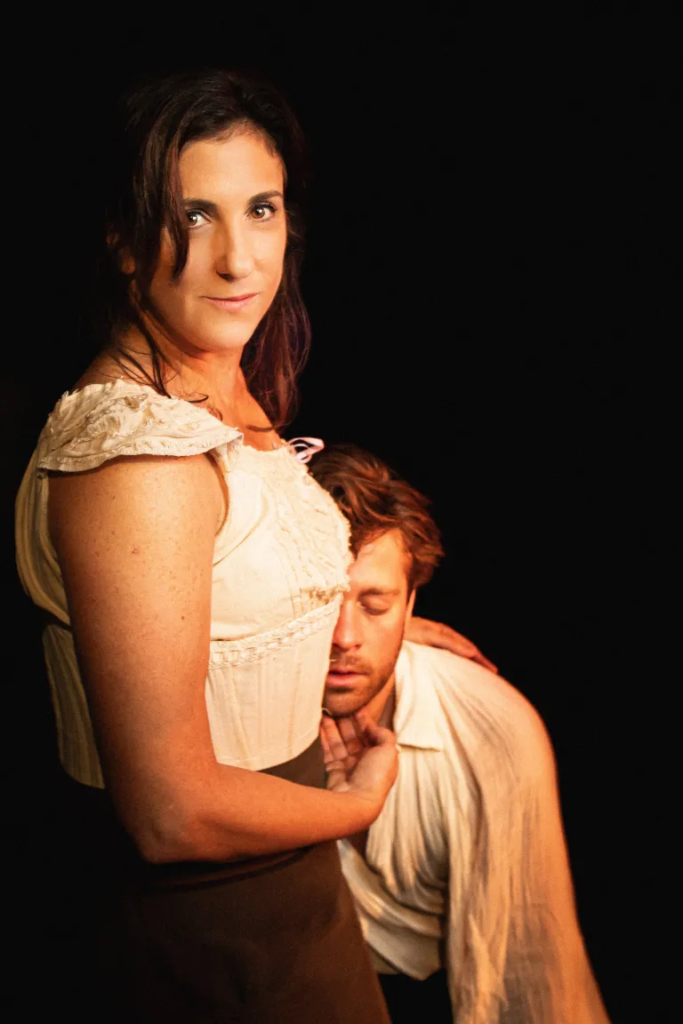 The Artistic Home through December 3
Recommended
What would it take for you to sell your soul to the Devil? Over the centuries many have grappled with this Jacobean storyline but the question seems relevant today in a world overwhelmed by multiple forces of evil.
The Artistic Home offers a Feminist rethinking of the classic deal-with-the-Devil tale that brings an age-old story to a modern audience while adding some engaging intellectual and moral twists. Playwright Jen Silverman's devil has all the necessary charm but he meets his match in a woman labeled a witch by her small village.
"There's a very powerful strain of cynicism that has slowly infected us since this play first premiered," says Director Devon Carson in his program note, "2023 feels like the putrid, liquescent corpse of 2018. And if we've learned anything in the last five years, it's that soulless individuals do pretty well for themselves. I love that this play isn't a cure for our collective infection, it's a game of chicken."
Indeed it is. Two of the actors are at the top of that game — Kristin Collins as the skeptical and plainspoken Elizabeth Sawyer, the aforementioned witch, and Julian Hester as the sexy and handsome Scratch, better known as the Devil. Their contest of wills alternates between erotic moments that stop short of sexual engagement and intellectual arguments about what a soul is worth and whether any of us can hold onto hope in this wretched world. In this pay named for her, this is one witch who can hold her own against a devilish force of evil. Also excellent in his portrayal of a man willing to make any deal with any devil for financial gain is Ernest Henton.
Kevin Hagan's period set has the ideal gloom and abundance with its centerpiece of a feast worthy of Bacchus. The costumes are also period-perfect, bowing to Jacobean styles, but it is Silverman's contemporary language that allows this production to bridge the gap between ancient and modern with some necessary humor to leaven the load. It is also the central questions her play pose: "What is the value of a soul" & "Is hope possible?" – two incredibly important questions in this political moment. Seize that moment and see this play for a modern take on an age-old but persistent dilemma.
The Lehman Trilogy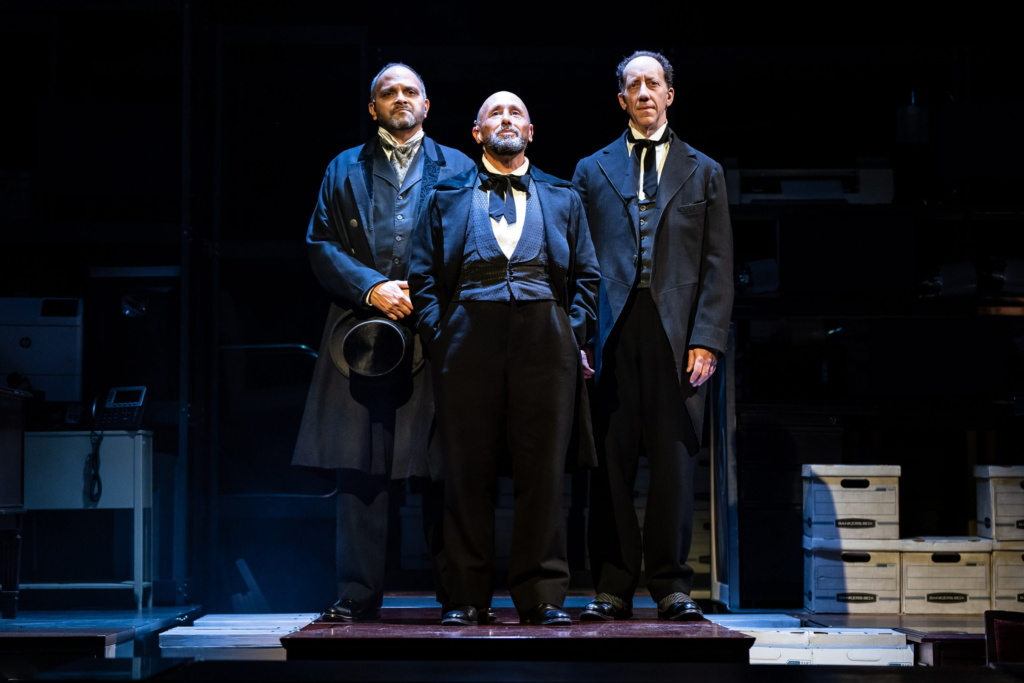 TimeLine Theatre Company, Broadway Playhouse, Broadway in Chicago through November 26
Highly Recommended
It's almost impossible not to be impressed by the sheer talent of the trio of fine actors who keep sold-out houses engaged for three hours and 20 minutes as they chronicle the beginning of the House of Lehman, better known as Lehman Brothers, Inc., which filed for bankruptcy in 2008. Three fine Chicago actors, Mitchell J. Fain, Anish Jethmalani and Joey Slotnick, take us from the arrival of the first Lehman, the son of a Jewish cattle merchant, on these shores through 160 years of Lehman history.
Their story begins in 1844 with the arrival of Henry who locates in Montgomery, Alabama and starts a dry goods store specializing in cotton through the building of a global financial services empire, eventually the fourth US largest investment bank. Henry and his two brothers quickly figure out that cotton, provided with free slave labor is the way to build their empire. As these three actors play generations of Lehmans to come, we see that unsavory, even despicable but clearly successful business acumen repeated by the family members who head and counsel the company. It is a capitalist cautionary tale, a dream or nightmare, depending one's perspective. It is also the classic happy American immigrant story, one in which people from other countries arrive on these shores and assimilate, in this case on the backs of slaves, which should be particularly poignant for Jews. The tension in this play is one between the professional genius of the Lehman clan and the unethical measures and personal demons they must overcome to ensure their ever-growing success.
Perhaps it took a perspective from other shores to tell this multi-generational story. Italian Playwright Stefano Massini wrote The Lehman Trilogy, and it was adapted by British Playwright Ben Power. It was a London hit before heading for Broadway. The Chicago production offers more collaboration. It is a production by the esteemed TimeLine Theatre Company, skillfully co-directed by TimeLine veteran Nick Bowling and Vanessa Stalling, and featuring top Chicago actors including Timeline Company member Jethmalani, Slotnick, a Lookingglass Theatre Company ensemble member and Fain, whose graced many Chicago stages. This team collaborated with Broadway in Chicago and the buzz that started in Britain continues here.
You still have two weeks to catch this chronicle of capitalism that offers insight into one sort of American immigrant experience, along with some examples of how to success in business and life, as well as some warnings about what not to do. The more than three hours will fly by as you are drawn into the stories and dramas of the Lehmans.
And now for something completely different!
This comes from my brilliant friend Danny (Alias) Duane, who not only edits my Theater Raves but keeps me in stitches. Enjoy!
Bed Bug Love by Danny Alias. Bionik Remix.